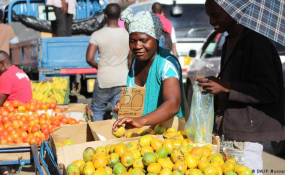 Photo: P. Musvanhiri/Deutsche Welle
By Talent Hwari
Government yesterday appealed to Harare Metropolitan Province to leave vendors operating in designated vending sites to go about their business. Minister of Small and Medium Enterprises and Co-operative Development Cde Sithembiso Nyoni appealed to Minister of State for Harare Provincial Affairs Mirriam Chikukwa to support vendors who moved to designated sites.
"Last year, the local authority gave space to vendors and some of the vendors invested with their tents and infrastructure. I would like to appeal to local authorities that those people should not be disturbed because they complied. There are many vendors; we should not fight the right ones. Let us find space for those who do not have space and help them. Local authorities have got their tents, let those tents be put in spaces where there is no infrastructure," she said.
She said the SMEs requested to have some plans to be able to construct some structures for themselves, so the city council should give them some plans. Minister Nyoni said the construction of Chiwasha SME complex near Rufaro Stadium should be complete as it would house about 6 000 SMEs.
"Vendors are business people and it is the city's responsibility to assist them to do business properly rather than condemning them," she said.
Harare Informal Traders' Association chairman Mr Arthur Muromba said vendors associations were served with withdrawal letters yesterday to move away from designated vending sites without any specific reasons.
"Associations are not owned by city council but by the Government, so they should approach Government first and not come to us directly. We do not understand their hidden agenda as this goes against the President's 10-Point Plan. The city council should give us specifications for type of structures they want and we are ready to pay even for those tents they have acquired or they should go and pitch those tents to many areas which are not occupied," he said.
Harare City Council corporate communications manager Mr Michael Chideme said they had to replace the tents with the ones the city council has acquired, saying that the associations are charging high prices to vendors under those sites and not providing services as well.
"We have decided to provide the requisite shelter to the vending community; we want the individual vendor to be happy and not to be extorted or to be forced to pay higher charges. They are certainly not providing any services to the vendors other than just taking money from them and fattening their pockets. We are implementing order as directed by the President Mugabe", he said.
The areas are Copacabana, Market Square and Fourth Street among others.