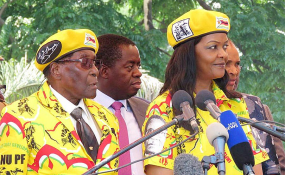 Photo: The Herald
President Robert Mugabe has expressed both shock and contempt at Zimbabweans who complain about cash shortages when they are daily giving loads of money to prophets.
Mugabe was speaking during his graveside eulogy at the burial of Zanu PF National Consultative Assembly member and war veteran, Don Kwaedza Muvuti at the national heroes' acre recently.
"Some are promised riches while in turn filling the baskets of pastors and prophets to the brim. People are complaining of money shortages, but we hear that now prophets are bringing large bins which are then filled with loads of cash.
"If a pastor comes to you and tells you Jesus is coming, most of you get confused and empty your pockets to these prophets. They are lying to you. There is no such thing that a pastor can make you rich," said Mugabe.
He then threw another one below the belt to politicians as the election season beckons.
"Some are vising those church leaders to know about their fate in the upcoming elections. They want to know if there is a promotion for them after the election.
"Ndiudzei munhu waMwari... .chii chichaitika? (Tell me man of God, what would my future be). He will tell you that you are going to be the vice president. Then you run around singing praises that you are going to be the chosen one. It is all lies.
What kind of people are we? Anyway, some of these things can be ignored and pastors can be forgiven. We will not forgive rapists. Those who rape will rot in jail," added Mugabe.