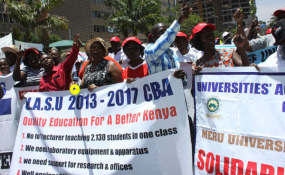 Photo: Anthony Omuya/ Daily Nation
By Ouma Wanzala
Lecturers yesterday criticised the government for failing to implement their pay deal as they sought the intervention of Parliament and the Ministry of Education.
The dons marched from the University of Nairobi to Parliament and the Education Ministry headquarters at Jogoo House where they presented their petitions.
They had been ordered not to make noise during their demo.
BITTER EXCHANGE
Police officers escorted them from Koinange Street where there was a bitter exchange when one was arrested for playing the drum.
Addressing the group before the start of the march, University Academic Staff Union Secretary General Constantine Wasonga said students should prepare for tough times ahead.
He said lecturers would not go back to work if their demands were not met.
Dr Wasonga said the government was not committed to addressing the lecturers' issues, adding that 31 universities had not concluded internal collective bargaining agreements.
"We had talks and agreed to hold discussions on the 2017/2021 CBA, starting from July but the government has been changing goal posts," Dr Wasonga said, adding that since 2010, the government had not paid remitted lecturers' pension dues.
He said many dons had retired without getting their money while others still serving did not have medical cover.
DIALOGUE
"We want the government to take this seriously. Statutory deductions are being made without being remitted to relevant authorities," Dr Wasonga said.
He accused vice-chancellors of hindering the salary talks.
However, universities asked the striking lecturers to give dialogue a chance and go back to teach as the strike entered its sixth day.
"Universities have continued to hold talks with the government to ensure the implementation of the 2013-2017 CBA seamlessly into the 2017/18 financial year by obtaining the funds," said Prof Paul Kanyari who chairs the Universities Council Forum.
Prof Kanyari said the increase had not been effected in only four months: July, August, September and October.
On Wednesday, the lecturers had a hectic time reaching their destination as they were stopped by police officers several times.
They finally presented their petition to a handful of lawmakers, among them by ODM Nominated MP Wilson Sossion who criticised the police for denying the lecturers a right to hold a peaceful demo.