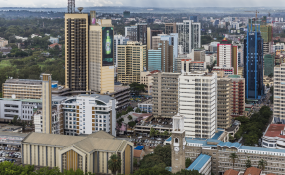 Photo: Ninara/Wikipedia
By Linus Gitahi
The country has been in an electoral mood for the whole of the second half of the year.
A contested presidential election has actually made us forget that we have many other things that we should be focusing on to secure the country's future.
Governors, for instance, need to get down to work. We do not know what their priorities are and what they planned to do with their first 100 days in office about to end.
The ease of doing business index has come out. Kenya is the third best place to do business in Africa after Mauritius and Rwanda, which is great news.
POLITICS
The question, though, is whether the government and opposition are all united in pushing for a better place next time.
Is it possible to do our politics but protect the country from slipping away economically.
Is it possible to engage the Supreme Court beyond election issues to prosecute economic saboteurs? Is it possible to campaign for the planting of crops so that we shall never import food again? Is it possible to campaign not to sell maize for short term gain until we have enough in our grain silos to cushion us from shortages?
In fact, can we have a massive demonstration about planting every available piece of land and demand that landlords who hold huge pieces of land that are unutilised be taxed?
Can we have huge demonstrations demanding to have key milestones when Konza, our tech hub that has the potential of creating our Silicon Savannah, will be built to attract the best firms in the world to set up shop? That this will create jobs for our youth?
Shouldn't the demos be about making oil exports a reality sooner rather than later? Shouldn't we all be pre occupied with finalising the revenue share arrangements so that all stakeholders are happy? One of the most transformative institutions in the central and Rift Valley highlands is the Kenya Tea Development Agency (KTDA).
EXPORTER
The agency enables a smallholder to grow tea, get his fertiliser on credit and have the tea collected within walking distance.
Should we not be having demos to create a KTDA environment to do fresh water fish in our rivers and lakes and become the world's biggest exporter of fresh water fish (East Africa has about 30 per cent of all fresh waters in the world). Should we not be demonstrating for a better deal for minerals? It's disturbing to see that Fluorspar mining is all but finished.
When one drives through fluorspar country, one still sees mud-walled grass-thatched huts and I bet one of the lowest literacy levels in the country.
But the mineral is gone! How much did we net in taxes? More importantly, are we doing the same with Tiomin in Kwale? What is the benefit to the local economy and the country as a as the mineral will be over in a few (less than 10) years' time? Why are we not demonstrating to have the Tana River basin planted with commercially viable crops and become a huge source of food and exports? Why are we not demanding this from our governors and the national government?
AGRICULTURE
Infrastructure is a key enabler for any economy. But why are we not seeing placards demanding the dualling of the Mombasa-Nairobi road faster than maybe the plan? Why not up to Kisumu and Busia?
Why are we not demanding these things so that Uganda and Rwanda stop thinking of going through Tanzania? Are those not jobs we are indirectly potentially exporting?
Why are we not aggressively chasing Lamu Port to open up the hinterland up to South Sudan? With the aquifer discovered in Turkana, are we not staring at a possible development of huge agriculture?
Why are the conversations not about adding value to coffee so that we do no necessarily have Nescafe as number one product in a country whose people have never seen a coffee bush? Is this not where "Tibim" and "Tano tena" should converge? A serious commitment to assure Kenya's competitiveness regardless of who is in power?
Mr Gitahi is the chairman of communications firm Oxygene MCL. [email protected]