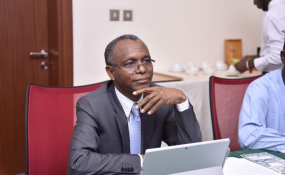 Photo: Premium Times
By Idoko Salihu
As controversy rages over the insistence of the Kaduna state government to sack over 20,000 teachers who recently failed the competency test, Nigerians have taken to various platforms, especially on Twitter, to share their thoughts.
Following threats by the Kaduna State Chapter of the Nigerian Union of Teachers, NUT, to proceed on an indefinite strike from November 23, Governor Nasir El Rufai on Tuesday vowed to go ahead with the sack.
"We have received a notice from the Nigeria Union of Teachers, Kaduna State wing demanding that we rescind our decision on unqualified teachers or else they (will) go on an indefinite strike. But then we ask, what's the point of that strike?" the governor questioned.
"To force us to violate our oath of office and retain unqualified teachers? We have sworn by the Holy Books that we will only do justice and we are committed to ensuring that the children of the poor in Kaduna State must get free basic and quality education," he said via a Facebook post.
On Wednesday, the president of the Nigeria Labour Congress, Ayuba Wabba, led hundreds of demonstrators through the streets of Kaduna in protest against the planned sack.
The development has caused widespread outpouring of opinions from people from all works of life.
"Rather than sack the Kaduna teachers who failed the exams the state administered on them is it not better to train and retrain them? Why sack them and lose their years of experience?" Reno Omokri said in a tweet.
A co-convener of the BringBackOurGirls campaign, Aisha Yesufu, also waded in on the matter. She took the perspective of teachers being compared to doctors to awaken the consciousness of her followers.
She said "Would you allow unqualified doctors in hospitals because you think its "inhumane" to sack them? Unqualified teachers kill too. They kill the mind. A slow painless torturous one".
Read more reactions here:
JOB! JOB!! JOB!!!
On going recruitment in KADUNA📣📣
Governor of Kaduna State has just announced recruitment for 25,000 teachers to replace the incompetent ones.
Apply, RT and share with friends. pic.twitter.com/qzpUr2hJnF
- Kemi Ariyo (@d_problemsolver) November 9, 2017
Kaduna Teacher Protesting Against Competency Test, saying
"Examination is not a true test of knowledge"
This is unbelievable 😨🙆 pic.twitter.com/T4z6PJgx8J
- Osas Cruz (@OsasCruz) November 9, 2017
I have mulled this over in my mind. What the Kaduna State teachers who could not score up to 75% in the Primary 4 test they were made to take need is not training. Training scales up what you already know. What they need is to be sent back to restart Primary School.
- HENRY Okelue (@4eyedmonk) November 9, 2017
There are people here more concerned about the livelihood of UNQUALIFIED teachers than the future of millions of children in Kaduna. Nigeria is nothing if not a paradox.
- Babanla (@biolakazeem) November 9, 2017
A gem of a placard from the Kaduna teachers protesting their sack for failing a competency test pic.twitter.com/Hs6QAov4Fl
- tyro (@DoubleEph) November 8, 2017
I served in Kaduna, 1st at NN & later at Govt Sec. Sch. Geshere, Saminaka-Lere Zone where I painstakingly took English & Literature classes (JS3-SS3). I had to organise free private classes for the school's full time English teachers. Education in the North needs radical reforms!
- 'JideAluko (@JideAluko) November 9, 2017
Peter Obi was IMPEACHED for initiating core reforms in Education in Anambra.
He fought back/won. Anambra Teachers/Students are better off today that he did.
Education Reform is not an easy task but it IS NEEDED. Kaduna Govt/NUT should find solutions & NOT compromise COMPETENCE
- Juliet 'Kego (@julietkego) November 9, 2017
The future of the children has a greater importance and essence for Kaduna state than Elrufai's 2nd term. https://t.co/o28cBRRHoQ
- JJ. Omojuwa (@Omojuwa) November 9, 2017
Kaduna is the most educationally improved and advanced state in Northern Nigeria. If you have over 21K teachers who failed a primary 4 test, what is then the fate of teachers in other Northern states?
- A.S. Aruwa (@MusadiqZ) November 9, 2017
Somewhere in Kaduna, questions meant for Primary 4 pupils were set for teachers, 75% of them failed and they were sacked.
Today, those people are carrying placards saying, "EXAMINATION IS NOT A TRUE TEST OF KNOWLEDGE".
Abeg my people tell me, where we dey go from here?
- 9jaWitches 🧙‍♀️🇳🇬 (@badgalmaddie_) November 9, 2017
Thread - I don't have a vote in Kaduna but you have my 100% support on this if you need it https://t.co/SuJBL5HOU0
- tyro (@DoubleEph) November 9, 2017
Lol, I'd like to take your word for it but like I said unless you can show me where it has worked before in Nigeria or you can got into the future and report from 2020 or 2030 that this thing worked for Kaduna, I can't agree with you even though I may be wrong. https://t.co/oIojKrInbR
- Demola Olarewaju (@DemolaRewaju) November 9, 2017
I wish El-Rufai was our SGF or cheif of staff to the president.. this should be a National Case not only kaduna
- Hamza... ... . (@hamzee89) November 9, 2017
Are you a Kaduna state indigent or reside in Kaduna who like 💗 Pres. @MBuhari but hate 😡 Gov. @elrufai? You better stop it, because the policies of the two is the same. May Allãh continue to give my leaders wisdom to lead us. Ãmiin.
- Muhammad Adamu (@Muhada1072) November 9, 2017