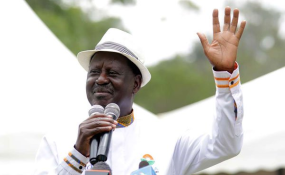 Photo: Tonny Omondi/The Nation
By Patrick Lang'at
Nasa leader Raila Odinga yesterday asked Kenya's international partners to engage the country more robustly and help it end the current political stalemate.
In a 30-minute lecture in Washington, DC, Mr Odinga asked the West to act, saying Western diplomats had concentrated more on guarding against the rise of extremism and terrorism, ignoring the democratic space in the protracted dispute over the presidential elections this year.
'ELECTORAL AUTOCRACY'
"I have come to Washington to convey a simple message: We need a much fuller engagement in the many arms of government that your country possesses to assist the envoys in Nairobi," he said at the Centre for Security and International Studies.
"The envoys' efforts up to now have not succeeded in defusing the crisis and let me be blunt: They have sometimes contributed to the crisis," he said and accused the western countries of leading Kenya on the path of electoral autocracy and dictatorship.
"Kenya's is not just an electoral crisis triggered by a third straight stolen election ... Let me be blunt: Kenya is hurtling towards an outright dictatorship.
The Jubilee government has looted every institution that they could to achieve their goal of controlling the state, or their self-declared goal of running up to 2032," said Mr Odinga, adding that he was convinced Kenya needed a fresh credible election.
REPEAT POLL
The opposition leader, who boycotted the fresh presidential election on October 26, accused the government of undermining independent institutions such as the Independent Electoral and Boundaries Commission (IEBC) and the Supreme Court .
Three petitions have been filed against the election won by President Uhuru Kenyatta and the Supreme Court is set to decide on its validity by November 20.
Mr Odinga has rejected the poll result, describing it as a sham, but unlike in August, he did not petition, instead calling for street protests and the formation of people's assemblies to push for fresh elections.
As he spoke in Washington, in Nairobi, his coalition explained what the assemblies entail and how they will work.
Mr Odinga said the envoys had lost the plot in Nairobi by supporting the holding of a fresh poll despite concerns raised by the IEBC, and had a skewed policy in dealing with President Kenyatta.
"There seems to be an obsession with stability and the fight against extremism and terror- ism that it now takes precedence against democracy.
"If a regime can provide stability and support against fundamentalism, then one does not care how they manage internal democracy," Mr Odinga told an audience that included former US ambassadors to Kenya William Bellamy and Johnnie Carson, envoys he described as "true friends of Kenya".
COLD WAR
The engagement the western envoys had adopted, Mr Odinga argued, was akin to the fight against the Cold War, where he said, the West had turned a blind eye on the assaults on democratic gains, leading to dictators such as Idi Amin Dada of Uganda, Mobutu Sese Seko of Zaire and Kamuzu Banda of Malawi.
"We are seeing electoral autocracy creeping in, where elections are held just as rituals that must be held every four or five years and must be won by the incumbents at all costs.
When this happens, apathy sets in and people are no longer interested in elections," he said.
Mr Odinga withdrew from the October 26 fresh presidential election, protesting lack of electoral reforms and demanded a new poll 90 days after fresh nominations.
He has since called for an interim government to stay on for six months to pave the way for re- forms.
JUBILEE
On Thursday, he insisted that such an arrangement was the best way to go, terming the October 26 poll in which President Kenyatta got 98 per cent of the vote a sham.
The former prime minister said the National Super Alliance (Nasa) may still not take part in another election even if the Supreme Court were to order it.
"We will still not participate in the election even if it is annulled again (and a fresh one ordered). What we need is an interim government to address all electoral issues first," said Mr Odinga and accused the Jubilee government of presiding over a "reign of terror".