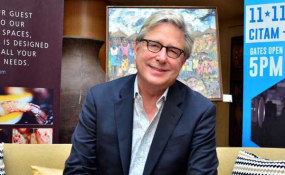 Photo: Francis Nderitu/The Nation
By Lilys Njeru
Legendary American gospel singer, producer and writer Don Moen arrived in the country Thursday and is expected to hold a concert tomorrow at the Christ is the Answer Ministries-Karen, Nairobi.
The celebrated singer, recognised worldwide for his praise and worship songs, will take the stage during the six hours worship concert organised by Aces and Lights Events.
Speaking to journalists at Sankara Hotel on arrival, Mr Moen, who is on his second visit, said he was excited to be back after his May 2015 trip.
DIVORCED
"I am very excited to be back in Kenya for the second time. I love Kenya and it tops the list of the many countries I have visited," he said at the news conference.
The singer used the news brief to debunk the rumour that he had divorced his wife of 44 years, Laura Moen.
"I am happily married and my wife is the greatest support to my ministry. I won't even talk about the other rumour about me being dead because as you can see, I am alive," he said.
In the concert, he is expected to perform alongside his friend and worship singer, Lenny Leblanc. Other guest performances will be by Mercy Masika, Rebekah Dawn, Adawnage and Worship Factory.
Associated with some of the best known worship songs, the 66-year-old singer developed his talent while attending Oral Roberts University in Oklahoma. He worked for Integrity Music for 20 years before quitting to concentrate on his music.
GRIEF
The international gospel singer, who has established a solid base with fans across different age groups, is popular for giving the world songs such as God Will Make a Way, Thank You, God is Good all the Time and Give Thanks.
Unknown to many, Mr Moen wrote the hit of all time, God Will Make a Way, at a time when his family was struggling with grief.
"My sister-in-law and her husband had just lost a son through a grisly road accident and other three children had been seriously injured," he said.
While working as president for Integrity Music, he signed up gospel artistes such as Darlene Zschech, Paul Baloche, Randy Rothwell and Ron Kenoly.