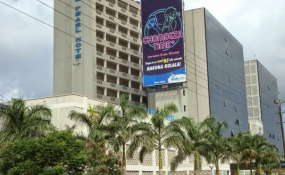 Photo: Daily News
By Online Reporter
Ubungo Plaza Limited has closed Blue Pearl Hotel in Dar es Salaam for allegedly failing to pay 5.7bn/- rent arrears.
Blue Pearl is at Ubungo Plaza Building owned jointly by National Insurance Company (NIC) and National Social Security Fund (NSSF).
According to a press statement issued by Yono Auction Mart, the closure was done Wednesday morning under the supervision of 30 bouncers.
Meanwhile, the move didn't go well with the hotel's customers as they were forced to vacate to other service providers.
The auctioneer's Executive Director, Ms ScholasticaKevela, said, the company's priority was the safety of the hotel's customers found at the premises during the closure.