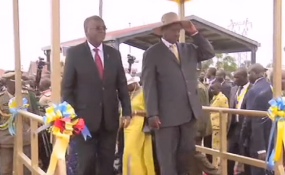 Photo: The Independent
By Louis Kolumbia
Dar es Salaam — President John Magufuli has reiterated a call for acceleration of the East African crude oil pipeline project from Hoima in Uganda to Tanga.
Addressing a rally in Ruzingwa Village in Uganda yesterday before laying the second foundation stone of the project, President Magufuli said since the region required huge investment projects, he was of the view that the project should be completed by 2020.
"We need the project now because the early it is implemented, the early will investors and the countries start generating money," he said, adding: "Experts from the two countries should start talks with investors to see if oil can start flowing by 2019."
He suggested the job to be divided to many contractors instead of leaving it to a single contractor for effective implementation.
President Magufuli once again assured his Ugandan counterpart President Yoweri Museveni of the safety and security of the pipeline, noting that Tanzanian politicians were very polite.
He said he was aware of the difficulties experienced, when Tanzania, Uganda and investors engaged in discussions before striking the deal, noting that Tanzania had sacrificed billions of dollars to ensure the project took off.
President Magufuli commended the Ugandan expert's good exploration job, noting that he expected positive findings from experts sent to collaborate with Tanzanians in oil exploration.
He, in collaboration with his Ugandan counterpart President Museveni, after the launch of the Tanzania-Uganda one-stop-border-post on Mutukula border and laying the second foundation stone for the crude oil pipeline would continue with his three-day official visit in Uganda.
Earlier on the day President Magufuli revealed that Tanzania Bureau of Standards (TBS) has collected Sh380.5 million since November last year, when it started operations at the Tanzania and Uganda one-stop-border post (OSBP) at Mutukula border.
Speaking during the launch of the OSBP he said TBS was among the new institutions, which had increased from 6 to 16, a move that reduced corruption on the border.
Outlining other benefits, President Magufuli said the World Food Programme (WFP) had been using the border to pass 400 to 600 trucks carrying food aid to South Sudan in a month as well as decreasing clearance time.
He said the post built for Sh7.16 billion under Canada and the UK funding had reduced clearance time to travellers, who required 2-3 minutes at the moment compared to 10-30 minutes required before the OSBP started operations.
Speaking during the event, President Museveni said commercial agriculture, industries, services and ICT were things that would create more jobs for the citizens of the two countries and that the launch of the project aimed at facilitating business in the region.
"Tanzania has provided almost all necessities, including commercial banks on the border. I will press for the bank to be built on the side of Uganda, when I return home," he said.