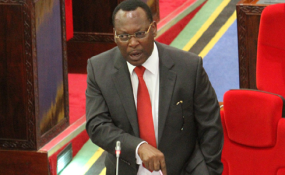 Photo: The Citizen
By Daniel Mjema
Dodoma — Leader of the official Opposition Camp in Parliament Freeman Mbowe has said he is ready to bring in the House statistics showing that President John Magufuli is biased towards certain appointments.
Mr Mbowe, who is MP for Hai Constituency in Kilimanjaro Region made the statement in Parliament yesterday during debate on the National Development Plan for 2018/19.
He said President Magufuli's appointments had been isolating some zones contrary to traditional practices by retired Presidents.
His statement was provoked by the contribution of Sumve MP Richard Ndassa (CCM), who said lawmakers had diverted from debating the National Development Plan agenda to regionalism.
"I have observed that all contributions from day one to date have diverged from the main line. Let's not focus on the regionalism agenda," Mr Ndassa said.
"After we are done with debating zones, definitely the topic will switch to tribalism and then to religions. So, please, let us maintain our focus on the development agenda."
He said MPs were representing people and whatever statement they made went viral, so they should not divide the people in the House under the umbrella of tribalism.
"A lot has been said about our Head of State that he has done this and that in the Lake Zone, but there are so many things happening across the country, even the decision of shifting the country's capital to Dodoma was announced in Mwanza," he added.
In his contribution, Mr Mbowe seconded his Sumve counterpart that they shouldn't focus on regionalism, but he suggested to look into the main root of the debate.
"Let's think of the main cause and why hasn't it been raised before? This means there is something wrong somewhere. As a nation we must be fair and just," he said.
"There are things happening in the country that tend to isolate some citizens. If we can't speak up, then it will be dangerous for our future," he added.
He said the Head of State should be told to be fair and just for all parts of the country and not concentrate only on few regions, which was quite unfair.
He went on to cite some of the appointments made by President Magufuli from 2015, saying there was unequal allocation of the posts compared to previous regimes.
"Historically, his predecessors ensured that the appointments were equally distributed to all regions and there were no complaints," he stressed.
"This is not happening today and I will be ready to bring here statistical evidence on all his appointments since he took office in November 2015."
Since day one of the November sitting, there have been complaints that the Head of State has been favouring the Lake Zone. However, the concern has been refuted by ministers.