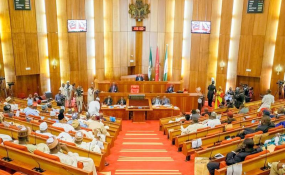 Photo: Premium Times
By Ismail Mudashir
The Senate yesterday approved the 2017 budget of the Federal Capital Territory (FCT) and the $350m foreign loan request of Ogun state government.
The Senate, presided over by Deputy Senate President, Ike Ekweremadu, approved N222.3bn for the FCT with N52.5bn for personnel, N44.4bn for Overhead Costs, N93bn for Recurrent Expenditure and N129.3bn for capital expenditure.
The chairman of the committee on FCT, Senator Dino Melaye (APC, Kogi), who delivered the report on the budget, said it was for the financial year commencing' from 1st January and ending on 31st December, 2017.
He noted that the overall performance of the FCT 2016 Statutory Allocation was only 47 percent.
"Most of the projects executed by the FCTA/FCDA were still on-going due to overbearing ineptitude of getting the Due Process Certificate on time.
"It is worthy of note that the methods employed by the FCT Administration in generating funds, i. e. Internally Generated Revenue (IGR) are not critical enough, therefore experiencing low IGR yearly," he said.
Ekweremadu appealed for transparent implementation of the budget, saying "As we all know FCT is not only the pride of Nigeria but Africa. As such, we must ensure it proper maintenance."
In another development, the Senate approved $350m foreign loan of Ogun State. The approval of the loan was sequel to the consideration of the report of the Committee on Local and Foreign Debts chaired by Senator Shehu Sani (APC, Kaduna).
Presenting the report, Sani said the projects earmarked by the Ogun State government to be funded from the credit facility when fully implemented will boost the socio-economic development of the state.
Our correspondent reports that the foreign loan request of $1,492,400,000 was made on May 25, this year by the then Acting President Yemi Osinbajo on behalf of 10 states.
The Senate had on July 27, this year approved the request of Abia State $200m, Ebonyi $150m, Kano $200m, joint request of Enugu, Kano, Plateau and Ondo $200m and another joint request of Enugu and Kano $100m.
With the approval of Ogun, the request of Kaduna, Katsina and Jigawa states is still pending.