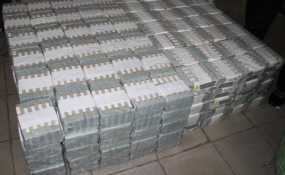 Photo: Premium Times
By Adelanwa Bamgboye and Nurudeen Oyewole
Lagos — A Federal High Court in Lagos yesterday ordered the temporary forfeiture of Flat 7B Osborne Towers, Ikoyi, Lagos to the Federal Government.
The property is said to have housed the sums of $43.4m in iron cabinets and Ghana-must-go bags in April.
Justice Saliu Saidu issued the orders following an ex parte application initiated by the Economic and Financial Crimes Commission (EFCC).
Before now, the anti-graft agency had mentioned the wife of the sacked Director General (DG) of the Nigeria Intelligence Agency (NIA), Mrs. Folashade Oke, as the owner of the apartment.
The EFCC had insisted that it found out that Mrs. Oke made a cash payment of 1.6 million dollars for the purchase of the flat between Aug. 25 and Sept.3, 2015.
The EFCC had further argued that Mrs. Oke purchased the property in the name of a company, Chobe Ventures Ltd in which she and her son were directors.
Payments were said to have been thereon made to one Fine and Country Ltd.
The anti-graft agency said Mrs. Oke made the cash payment in tranches of 700,000 dollars , 650,000 dollars, and 353,700 dollars, to a Bureau de Change company, Sulah Petroleum and Gas Ltd.
The company was said to have later converted the sums into N360 million and subsequently paid it to Fine and Country Ltd for the purchase of the property.
The judge adjourned the case to Nov. 30 for any interested party to appear and show cause why the interim order should not be made final.