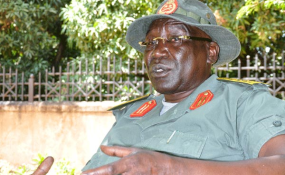 Photo: Daily Monitor
By Joseph Oduha
Juba — The under siege former South Sudan Chief of Staff, Gen Paul Malong, is seeking political asylum.
In a letter to various international agencies dated November 11, 2017, Gen Malong pleaded that the Juba administration be prevailed upon to allow him safe exit to Uganda.
He said he should be allowed to leave South Sudan with his bodyguards, to seek shelter in any UN camp in Uganda.
"I should be allowed together with my guards to seek shelter and asylum at any UN camp in order to preserve my life and those around me," the letter reads.
Gen Malong also urged the South Sudan government to unconditionally release all his loyalists who escorted him to Yirol and were currently being detained by the National Security Service (NSS) in Juba.
The former powerful military commander claimed that President Salva Kiir's order dated November 3 had a sole effect of endangering both his life and the lives of his bodyguards, adding that it could also heighten countrywide.
The letter ordered troops deployment at strategic locations in Juba, including around Gen Malong's residence.
"Mindful of the urgent need to preserve peace and security in the Republic of South Sudan and appreciative of the ongoing efforts to find peaceful and amicable solution to the crisis, my conditions must be met," Gen Malong warned.
However, the South Sudan Army spokesman, Brigadier General Lul Rual Koang, urged the residents of Juba to remain calm, saying the massive troops deployment last week was for security reasons.
General Malong was sacked last May and placed under house arrest after he was intercepted in Yirol town as he attempted to escape from Juba.