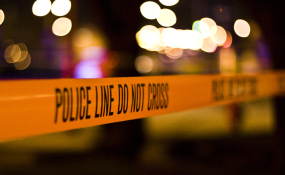 Photo: Tony Webster/Flickr
A Cape Town mom begged hospital staff to keep her son alive for two days so that he could make it to his eighth birthday and so that she could find the words to say goodbye.
But Faigon Wildschut died on Wednesday afternoon, November 8, hours after the ambulance he had been travelling in was stoned, forced off the road and ambushed by thugs.
His mother, Nicola Wildschut, believes that the time it took dispatch another ambulance to get her son to Red Cross Children's Hospital may have led to his death.
Faigon, Nicola and the child's father Chailon Mitchell had been on their way to their Delft home from a friend's birthday party in Manenberg on November 7 when they were involved in a head-on collision in Lansdowne Road, Philippi.
Faigon had sustained serious head injuries and a stranger pulled over, offering to take the mom and her only child to the Delft Day Hospital, while Mitchell remained at the accident scene.
The boy was assessed and referred to Red Cross Children's Hospital due to the severity of his injuries.
An ambulance was requested and what felt to her like a long wait ensued.
"I kept asking if he was alright and they assured me he was still breathing," Nicola said.
She sat at his bedside and watched him inhale and exhale for about two hours when the ambulance arrived.
Mitchell, who had since made his way to hospital, Nicola, Faigon, and three paramedics then started their 20km trip to the hospital.
While driving on the N2, the ambulance was forced to pull over after being stoned near Borcherds Quarry at about 01:10.
A second ambulance was called to collect the young patient and his parents.
"That took about 20 minutes. While we waited, three guys came - one robbed the driver at gunpoint and two came to the sliding door to deal with us.
"Chailon completely lost it. He hit one of the men, with his phone, in his face and fought back. The men ran off when they saw a police van approaching."
'He didn't respond'
The second ambulance arrived a short while later, she said.
"My child was an emergency but we waited a long time before we left. Everyone was more worried about the paramedics, who hadn't been injured. I asked them why they didn't drive. It felt like they were wasting time."
When they arrived at Red Cross, Faigon was taken to the trauma unit.
"A short while later the doctors came and said there was nothing more they could do for him. I felt the heaviest pain I have ever experienced.
"I asked them to keep the machines on, just until his birthday on Friday. He would've been 8 years old. But they said they didn't have beds to do this."
She asked for a few moments to process and accept that her child was going to die.
"I told him that I loved him and that he was my everything. He was all I had, my only child. He didn't respond... "
He died after the life support machines were switched off.
"I don't know what I am going to do. I am going to miss him. It's hard to let go, but I had to do it because I couldn't let him suffer [by demanding the machines be kept on] to please us."
She said she doesn't want to blame the paramedics for her child's death but believes that there was a possibility that something could have been done for Faigon "if time had not been wasted".
"Even 10 minutes could have made a big difference."
Police are investigating cases of robbery and malicious damage to property.
Western Cape Health MEC Dr Nomafrench Mbombo is expected to detail the province's emergency medical services safety plan on Friday, which the health department plans to implement to ensure staff safety.
Mbombo is expected to be joined by Community Safety MEC Dan Plato and City of Cape Town mayoral committee member for safety, security and social services, JP Smith.
Source: News24