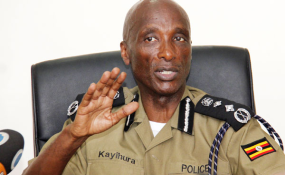 Photo: The Monitor
By Rachel Mabala
Kampala — The Inspector General of Police, Gen Kale Kayihura, has said Uganda will be 'heaven' in the next two years.
"Uganda is a peaceful country and I am happy to be alive today, in two years Uganda will be heaven, so if you are fighting crime, fight crime," he said.
The police chief was speaking at the funeral service of the late commandant of Civil Aviation Security, Senior Superintendent of Police Coleb Mwesigye, at All Saints Church, Nakasero in Kampala yesterday.
Eulogy
Gen Kayihura said Mwesigye was a specialist in airport security, adding that it will take decades to replace him.
"In that place [airport] small goods are smuggled into the country but he usually blocked these criminals. And the same people he blocked were the very people who always fabricated reports about him to frame him, but he fought them," the IGP said.
He added: "When I heard that Coleb was sick I was shocked and frustrated because his condition could be avoided but as much as I wished; God knew that probably Coleb could have been treated by criminals and called him home instead." Gen Kayihura also weighed in on reports that the Force is being eaten up by officers engaging in drug deals.
"The Uganda Police is now in the spotlight over drugs and money, my colleague [Grace] Akullo is here, I don't know how she is fighting that... there are a lot of negative stories in papers and on TVs," Gen Kayihura said.
The widow, Annet Mwesigye, said her husband had been complaining of severe headache for some time until one day when he requested the IGP to permit him go to the Aga Khan hospital in Nairobi, Kenya, for a checkup.
The results showed he had a tumor on the brain that required urgent surgery and acute ulcers that killed him on November 7.
Mwesigye will be buried today in Kazo-Mugole village, Rwemukoma Sub-county in Kiruhura District.
Profile
SSP Mwesigye Coleb was born on August 10, 1976. He joined the police on March 29, 2010 at the rank of ASP and four years later, in 2014, was promoted to Superintendent of Police. At the time of his death, he was the commandant of the Civil Aviation Security. He is survived by a wife and a son.