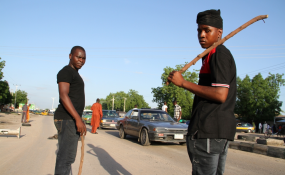 Photo: Obinna Anyadike/IRIN
analysis
By Leighann Spencer
Concerns about safety and security are substantial in Nigeria. Here, crime is high and the police are considered corrupt and inefficient. The structure of law enforcement does not help. Police are run at the federal level despite long-standing calls for state forces. Given that Nigeria has many diverse languages, cultural practices and terrain, the centralised police face many difficulties.
These conditions are conducive for vigilantes - civilians who undertake their own crime control. Although vigilantes can be effective in providing safety and security, their use poses several problems. They sometimes take the law into their own hands and dispense justice as they see fit. Yet in Nigeria they often have authorities' approval.
The Borno vigilantes fighting against Boko Haram, whose activities have attracted widespread media coverage, illustrate this well. Referred to as the Civilian Joint Task Force, they began in 2013 as a group of local hunters intending to protect their communities, but quickly became integrated into the government's official counter-insurgency.
With greater knowledge of the local community and terrain than officials, the Civilian Joint Task Force has been successful in identifying Boko Haram members and limiting their attacks. Nevertheless, they have been implicated in abuses, including extrajudicial killings. There are fears that they could evolve into an ethnic militia or be used for political means.
The Civilian Joint Task Force is not the only example. The use of vigilante groups to protect lives and property, with official support, has become part of the fabric of Nigerian society.
Profiles of the main groups
Vigilantism is not a new phenomenon in Nigeria. Traditional hunter guards have pre-colonial origins, and were authorised by the British regime during World War Two. The politicisation of hunter guards after independence led to prohibition. However, vigilantism continued, with groups proliferating in the 1990s:
The Bakassi Boys
Originally a group of shoe producers patrolling the Ariaria market in Aba 1998, the Bakassi Boys quickly spread across the city. They were successful in preventing crime. The state government renamed them the Abia State Vigilante Service in 2000, providing them with funds and equipment.
That same year, the Anambra State governor invited the Bakassi Boys to deal with heightened crime at the Ontisha market. Subsequently, the State House of Assembly passed a law to legitimise the group as the Anambra Vigilante Services. A nearby state, Imo, followed suit.
In all three areas, the vigilantes were controlled by an official committee. However, this did not quell executions and other abuses, including political killings. Efforts by the federal government to ban these groups failed, and the Bakassi Boys continue to operate.
Oodua People's Congress
The Oodua People's Congress, based in Southwest Nigeria, was founded by Yoruba intellectuals to promote Yoruba historical and cultural research after the Moshood Abiola debacle. Abiola, a Yoruba, won the 1993 presidential election which was annulled by the military government. He was jailed and later died in prison. In 1996 the group's mandate was expanded to include vigilante activities.
As members opposed military rule, they became involved in political vigilantism during the 1999 election. When former army general Olusegun Obasanjo won, he banned the group.
This ban failed to stop the Oodua People's Congress from operating and committing violent acts. They became increasingly politicised. By supporting President Goodluck Jonathan in the 2015 elections they were awarded a contract to guard the Nigerian National Petroleum Corporation pipelines. This contract was withdrawn after Muhammadu Buhari was elected instead.
Although the Oodua People's Congress' relationship with the federal government is unstable, it tends to have state support. They recently collaborated with the Lagos police to combat the murderous Badoo cult.
The Hisbah
Many states in northern Nigeria have implemented Sharia law. In 2000, the Hisbah vigilante group was set up in Zamfara and Kano states in northern Nigeria amongst claims that the federal police failed to effect Sharia. When complaints of extrajudicial killings escalated, the state governments set up monitoring committees.
By 2003, laws to regulate the Hisbah were passed. They became a highly structured organisation, operating in uniforms and marked vehicles, and even broadcasting a weekly radio programme. Again, official regulation did not prevent abuses. While the Hisbah enjoy state support, they have clashed with the federal police. This peaked with a federal ban in 2006, but the group continued to operate and spread to other northern states.
Groups in the Niger Delta
The Niger Delta is rich in oil, yet local communities are excluded from the benefits of this resource. This has been the driving force behind the emergence of various ethnic vigilante groups there.
For example, the Egbesu Boys formed in the early 1990s as a response to oil exploitation on Ijaw land. A clash between the Okrika and Eleme communities over land ownership where the Port Harcourt refinery is situated produced the Okrika Bush Boys. Both groups have allegedly gained support from politicians.
Port Harcourt has also seen violent clashes between the Ijaw groups Niger Delta People's Volunteer Force and Niger Delta Vigilante, with the state government supporting the latter. This official alliance precipitated the 2004 Nigerian oil crisis.
Federal attempts to ban and disarm various Niger Delta groups have been unsuccessful.
Vigilante Group of Nigeria
The countrywide Vigilante Group of Nigeria originated in Benue and registered as an NGO in 1999. The group is highly structured and collaborates with the police and military. Like the Civilian Joint Task Force, it has also played a role in combating Boko Haram.
With an understanding of the local communities in which they work, the Vigilante Group of Nigeria has been very successful. Recently, the House of Representatives passed a bill authorising the group. However, its members have not been exempt from committing abuses.
This is not an exhaustive list. Vigilantes cooperate with the police and military amidst farmer-pastoralist conflicts in Plateau state. In Kano, aside from the Hisbah, operates several vigilante groups registered with and funded by the state. In October, the Nasarawa Commissioner of Police announced a partnership with local hunters and vigilantes.
Regulation and bans
Although official regulation has not completely eradicated abuses, it appears more fruitful than bans. Moreover, the effectiveness of vigilantism in combating crime cannot be contested. With enhanced training and accountability mechanisms these groups could provide an important component of community policing.
Indeed, nongovernmental organisations CLEEN and J4A have successfully trained vigilantes and improved their relations with police. Conversely, it has been argued that improvement of official law enforcement should be prioritised, which would remove the need for vigilantism.
But for now, these groups are here to stay.
Disclosure statement
The authors do not work for, consult, own shares in or receive funding from any company or organization that would benefit from this article, and have disclosed no relevant affiliations beyond their academic appointment.