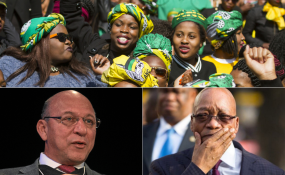 Photo: allafrica.com
The ANC's stalwarts and veterans say all is in place for their national consultative conference (NCC), which they had been calling for since 2016, to take place next weekend.
Elders of the liberation movement told journalists on Thursday that the conference will be attended by 500 delegates.
They have also extended invitations to the party's current crop of leaders, including its national executive, top 6 officials and 7 presidential hopefuls. The stalwarts said they had also been in consultation with civil organisations and religious leaders.
"There is a growing constituency for the NCC," former safety and security minister Sydney Mufamadi said, adding that there was a greater need for the conference following the ANC's policy conference in June.
Clash over policy and consultative conference
This conference was boycotted by the elders, with them saying the decision was based on the top six refusing to separate the policy conference from the consultative conference, as previously promised.
"You can see the smouldering of problems on the ground, even post the policy conference. Case in point is the happenings in the Eastern Cape conference of the ANC. There are severe tensions in the ANC in KwaZulu-Natal which show political stagnation," explained Mufumadi.
In his view, ANC members turning to courts to rule on party issues exposed the ruling party's inability to solve problems politically.
The ANC's KZN and Eastern Cape elective conferences have been marred by legal wranglings, while the Northern Cape elective conference is facing a threat of court action.
Another veteran, Thami Ntenteni, recollected the stalwarts' journey to the upcoming conference. These included various ANC meetings and the surprising about turn in November 2016 when members of the ANC's national working committee said members were not too keen on hosting a consultative conference, especially one that would be separate from the policy June policy conference.
"Stalwarts engaged leaders as members and not part of any faction of the ANC," said Ntenteni.
It was for the love of the ANC and the love of country, he added.
Former City of Joburg manager Trevor Fowler outlined the three-day programme, from November 17-19, which will include discussions with civil society and the religious community.
The state of the ANC
He said one day has been set aside to focus mostly on the state of the ANC. This will include commissions focusing on organisational renewal, electoral reform, leadership with integrity and the role of the state in economic development.
Fowler said messages of support are also expected from ANC alliance members the SA Communist Party, Congress of South African Trade Unions and South African National Civic Organisation.
The stalwarts are waiting to hear who from the ANC's national executive committee will be deployed to address their gathering.
Some of the elders penned a letter, with 101 signatories, calling for President Jacob Zuma's resignation. Zuma responded to this during the June conference, saying they were arrogantly thinking they had power within the ANC.
Source: News24