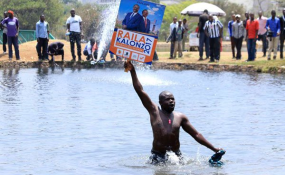 Photo: Daily Nation
By Elvis Ondieki
The National Super Alliance (Nasa) has now indefinitely postponed protests earlier scheduled to be held in Nairobi this Friday to push for electoral justice.
In a statement released by Siaya Senator James Orengo, Nasa told its supporters that the protests had been called off due to the ongoing debate in various county assemblies seeking establishment of a people's assembly.
"This is to enable the coalition's leaders and supporters concentrate on and support the initiative that is intended to have the people exercise their sovereignty directly and chart their future through a people's assembly," Mr Orengo said in the statement.
He said a new date for the peaceful protests would be announced in due course.
Before the postponement, Nasa had written to the Nairobi County Police Commander Japheth Koome informing him that its procession would be peaceful.
ELECTORAL JUSTICE
Nasa, through Edwin Sifuna and Associates Advocates, had written to Mr Koome saying Friday's protests would be part of Nasa's "quest for electoral justice and an end to electoral impunity in Kenya".
"You are hereby notified of the same and requested to provide security during the said procession/ demonstration to ensure criminal elements do not take advantage to harm protesters, the public or any property," reads part of the letter.
"Your cooperation towards making the peaceful demonstration a success, in line with your responsibilities under the law, will be highly appreciated," it adds.
FRESH POLL
Last Saturday, Mr Orengo had told journalists in Nairobi that the alliance would hold one demonstration this week in its push to have a fresh presidential election held after nominations.
"As you know, Article One of the Constitution states that any government formed against the law is not legitimate. We must salvage Kenyans from Jubilee," Mr Orengo had said at a Nairobi hotel.
The last time protests were held following calls from Nasa leaders was on October 13, a day after Acting Interior Cabinet Secretary Fred Matiang'i banned them in the central business districts of Nairobi, Kisumu and Mombasa.