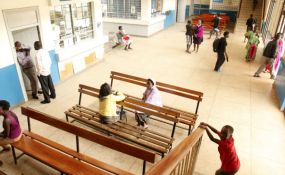 Photo: Rachel Mabala/Daily Monitor
By GODFREY SSALI
Kampala — The Minister of Health Dr. Jane Ruth Aceng has told parliament that the Sh29 million given to Members of Parliament (MPs) to consult on the proposal to amend the constitution, sparked the ongoing industrial strike of government doctors.
Parliament released the money recently to allow countrywide for consultation regarding the amendment of article 102b of the constitution to among other things remove the age limit for the presidency.
Aceng Thursday told MPs on the parliamentary committee chaired by Dr. Micheal Yiga Bukenya (Bukuya) that in a meeting between government and doctors, they alluded that if MPs can be given money urgently even doctors can be considered.
"We had convinced the doctors to wait for the salary review commission and the negotiations were moving on smoothly but the final nail in the coffin was the release of the 29m shillings which some Mps have returned calling it a bribe," said Aceng
Aceng's view was corroborated by Serere woman MP Helen Adoa who said MPs should always be mindful of the public sentiments as they allocate themselves huge amounts of money in terms of salaries and allowances.
'Strike is illegal'
Later in the day, Minister Aceng called a press conference where she declared the strike illegal.
"The Ministry of Health wrote to the Solicitor General for advice and received clarification that Uganda Medical Association (UMA) is not a registered association and cannot enjoy rights,immunities and privileges provided under Labor union Act," she said.
"The involvement of UMA in calling on doctors to strike should stop and perpetuators should be treated as trespassers," she charged, adding that " the strike by UMA is illegal. All medical workers who were misled to join the strike must resume duty with immediate effect."
The strike, which entered its fourth day on Thursday, has paralyzed health services in all public hospitals in the country.
The industrial action was declared on Monday by Uganda Medical Association (UMA) at their annual general assembly held at Makerere University College of Health Sciences in Mulago, Kampala.
However Aceng noted that the failure to improve doctors' welfare and enhancement of their salaries has been due to limited cash flow budget.
She hastened to add that government is waiting for a salary review commission to come up with a harmonized pay policy which is being worked on by ministry of public service to guide on how all salaries of government servants will be enhanced.
Doctors demand better allowances
Doctors want the government to increase salaries and duty allowances of health professionals, review the supply chain and management of medicines, vaccines and medical supplies, as well as disband the State House Medicine and Health Service Delivery Monitoring Unit.
Aceng said government had finalized the revised pay proposals for all public medical workers and other public servants as a way of mitigating the rampart strikes among public servants.
Aceng said the revised proposals are expected to be in place by end of this month but will be subject for further review to assess their sustainability.
She also noted that the specialized units of the Health service sector including the Cancer Institute and the Heart Institute are fully functional and appeals to the striking medics to resume work as their concerns are being addressed.
However, during a joint press conference at the Uganda Media Center the State Minister for Public service David Karubanga blamed what he called self seekers for the current doctor's strike saying some of their leaders are not employed by government yet government can only negotiate with those it employs and specifically through the labor unions.
"This association was specifically created to champion professional aspirations and as government we only negotiate with trade unions and therefore we only know Uganda Medical Workers' union (UMWU) and Uganda Nurses and Nurses and Midwives Union (UNMU)," said Karubanga.
The strike has affected all wards in different hospitals, with patients left to their own devices.
Medical unions and Uganda Medical Association clash
On Wednesday, leaders of the two unions addressed a joint press conference at the Uganda Nurses and Midwives' Unions' offices in Mulago where they appealed to medical workers to suspend the ongoing strike to allow negotiations to proceed uninterrupted.
The General Secretary of the Uganda Medical Workers' Union Aggrey Sanya said it would be self defeating for health workers to maintain a strike at a time when government has accepted to remedy the situation and provided audience to dialogue on the matter.
However, the president of Uganda Medical Association Dr. Ekwaro Obuku maintained that medical officers will only get back to work when their concerns are addressed through an immediate supplementary budget for the health sector to urgently restock emergency - medicines in government facilities and increase their pay.