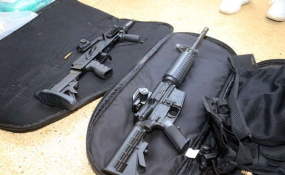 Photo: Jeff Angote/The Nation
Khartoum — The Vice President of the Republic, Hassabou Mohamed Abdul-Rahman, asserted the decline of the crime's rates during the period of the four months of the voluntary arms collection.
During his address Thursday, at the Teachers' Hall the launching of program of the Ministry of Education in collaboration with the general Trade Union of Workers of the General Education in Sudan, and the General Vocational Union for Teachers, in support of the national campaign for arms collection, he noted to the importance of the education sector in the realization of change and renaissance in the country.
He indicated that the period of the campaign for the arms collection has achieved success in the Darfur and Kordufan states, and was supported by the state's citizens in order to realize peace and stability there.
Hassabou has pointed to the reforms in the legal sector considering the laws to acknowledge its impact on the arms collection, where special courts was formed in the states.
He called on the education sector to address the motives and reasons of violence by focusing on the curriculums to find positive solutions to the issue.
He pointed out that the education sector is one of the biggest sectors that the state rely on to lead the initiative for change in the community, he added, "through dialogue we have achieved strategy, and we want to look in the challenges, on top of which the replacement of violence with dialogue in every days life in support of the identity's value".