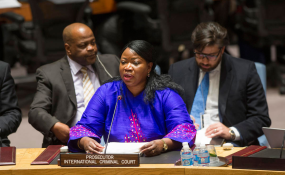 Photo: Photo: ONU/Eskinder Debebe
By Walter Menya and Valentine Obara
The International Criminal Court has unsealed its permission allowing Prosecutor Fatou Bensouda to investigate war crimes allegedly committed in Burundi.
The court's judges had allowed investigations on October 25, two days before Bujumbura pulled out of the Rome Statute that established the court, on October 27, 2017.
1,200 KILLED
In their decision, the judges found there was "a reasonable basis to proceed with an investigation in relation to crimes against humanity".
At least 1,200 people have been killed in the civil unrest since 2015, ICC Spokesperson Fadi El Abdallah said in a statement.
Publication of the decision was delayed to give time for protection of victims and potential witnesses.
"The Chamber accepted, exceptionally, after ordering the prosecutor to provide additional information, to conduct the authorisation proceedings under seal and only with the participation of the prosecutor, in order to attenuate risks to the life and well-being of victims and potential witnesses," the statement says.
10 DAYS
"The prosecutor was in addition exceptionally granted a limited delay of 10 working days in notifying the initiation of the investigation to states normally exercising jurisdiction over the alleged crimes in order to prepare and implement protective measures for victims and potential witnesses to mitigate the potential risks."
Mr Abdallah said Burundi government has been given one month to notify the prosecutor if it is investigating the crimes itself.
Should the prosecutor be convinced with the request, she can defer her investigations.
On the other hand, if she disagrees, she will have to re-apply to the pre-trial chamber for authorisation of the investigation, according to the spokesperson.
Pre-Trial Chamber judges Chang-ho Chung (presiding judge), Antoine Kesia-Mbe Mindua and Raul C. Pangalangan permitted investigations regarding crimes allegedly committed by Burundi nationals or outsiders between April 26, 2015 and October 26, 2017.
413,000 DISPLACED
However, Ms Bensouda will also be allowed to investigate events that occurred after October 26 "if certain legal requirements are met".
A spate of violence has been witnessed in Burundi for over two years now since President Pierre Nkurunziza announced that he would run for a third term in the 2015 presidential election.
He was announced winner in an election that was boycotted by the opposition and subsequently sworn in despite widespread outcry from the international community.
The crimes against humanity to be investigated by the ICC include murder and attempted murder, imprisonment or severe deprivation of liberty, torture, rape, enforced disappearance and persecution.
"The chamber noted that, according to estimates, at least 1,200 persons were allegedly killed, thousands illegally detained, thousands reportedly tortured, and hundreds disappeared. The alleged acts of violence have reportedly resulted in the displacement of 413,490 persons between April 2015 and May 2017," says the court.
However, it added that the prosecutor can broaden her scope of investigations beyond the outlined allegations so long as they are within the parameters of the court's authority.