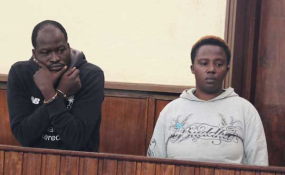 Photo: Ayub Muiyuro/Daily Nation
By Joseph Openda
The body of international rugby star Mike Okombe has been transferred from Nakuru County to Kakamega County awaiting his burial next weekend.
Mr Okombe's family moved the body from Valley Hospital mortuary to Mukumu Hospital mortuary after receiving a post-mortem report on Wednesday.
JUSTICE
The player was stabbed to death last Saturday night while attending a friend's birthday party.
The family has demanded justice for his killing.
Four suspects are being questioned in police custody after a court allowed them to be detained for seven days, until Monday next week, when they will be expected to plead to charges.
BURIAL PLANS
The player's father Josephat Shitindo Okombe said he will be buried at his home in Emasatsi Village, Khwisero Sub-County on November 18.
Mr Shitindo, a retired teacher, told the Nation that it was necessary to transfer the body closer to home as the government pathologist had completed the post-mortem.
A brief requiem mass led by Kabarak University chaplain, where Mr Okombe was studying, was conducted at the mortuary in Nakuru after which friends were allowed to view the body.
Other people who were present at the venue included his rugby team mates from both Nakuru Top Fry and Kabras Sugar, University's Assistant Dean of Students, college mates and friends.
FAMILY'S HOPE
Mr Shitindo said his son had relocated to Nakuru to complete his university studies and was hopeful he would graduate in December.
He was also clearing with his former club after sealing a mega deal with Kabras Sugar.
The family urged the Office of the Director of Public Prosecutions to carry out a thorough investigation and handle the matter seriously.
"We are calling on the office of the DPP to ensure justice prevails by expediting the investigations and have my son's killers held accountable," said Mr Shitindo.
He sobbed as he explained how Mr Okombe had become the family's beacon of hope. He termed his son's death a great loss to the family.
POST-MORTEM
The autopsy on Wednesday revealed Mr Okombe died due to internal bleeding after he was stabbed four times on different parts of his body.
A report released to Mr Okombe's family by government pathologist Titus Ngulungu showed the player had wounds in the chest, head, back and cheek.
Four suspects who were arraigned in court on Tuesday will be charged on Monday.
They are suspects are three rugby players - Mr Calvin Okoth, Mr Erick Mochache and Mr Vincent Omondi - and Ms Maryanne Mumbi, who is said to be his lover.