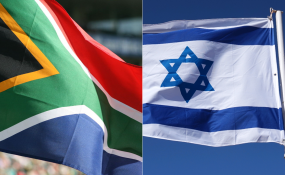 Photo: allafrica.com
analysis
The Israeli government believes the South African government is not keen to downgrade relations between the two countries - despite an ANC recommendation to do so. By PETER FABRICIUS.
After meeting Minister in the Presidency Jeff Radebe earlier this week, visiting Israeli Minister of Regional Co-operation Tzachi Hanegbi expressed "optimism" that a downgrade in relations between the two countries wouldn't happen.
Hanegbi seems more sanguine that the Jewish community in South Africa is lobbying very hard to prevent South Africa recalling its ambassador from Tel Aviv. Israel would then almost certainly retaliate by recalling its ambassador from Pretoria.
The Jewish community is organising seminars this month to illustrate the negative economic, cultural and religious impact a downgrade in relations would have.
Hanegbi said in an interview with Daily Maverick this week he had told Radebe that Israel's vision was to enhance the relationship with South Africa and that things looked like they were going the right way. "We have direct flights, we have Israeli businessmen coming here and working successfully. We have mutual tourism that picks up."
Downgrading relations would harm a relationship "which we cherish and would like to nurture".
He said the Israeli embassy, other Israeli officials and...