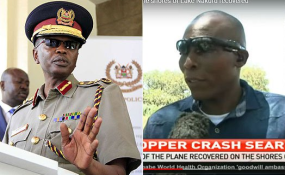 Photo: Nairobi News
By Fred Mukinda
The mysterious, witness-in-chief who claimed to have observed the crash that claimed Nyeri Governor Wahome Gakuru has been arrested.
Director of Public Prosecutions Ndegwa Muhoro on Friday told the Nation that Mr Dennis Ngengi was arrested in Ruiru, Kiambu County, on Thursday.
CELLS
He was transferred to Nairobi where he spent the night in police cells.
Mr Muhoro said the are holding the man in a bid to "know his character".
Mr Ngengi's arrest came a day after Inspector-General of Police Joseph Boinnet said he would investigate who he is.
"It is said that there is an individual who appeared in both accident scenes. It is claimed that he is a police officer. I will find out if it is true he is an officer or not. If yes, then I will be interested in knowing what he was doing at those two scenes," Mr Boinnet said on Wednesday in Mombasa.
Mr Ngengi, who was interviewed live on Citizen TV on Tuesday, claimed to have witnessed the accident that claimed Dr Gakuru's life near Kabati on the Thika-Sagana highway in Murang'a County.
COPTER CRASH
He disputed a police version that a tyre burst caused the accident, which saw the governor's car ram a guard rail, saying the driver lost control of the vehicle as he tried to avoid hitting a motorcycle ferrying meat.
"I was on my way to Nairobi from Nyeri when the accident happened," he said, adding that he actually spoke to the governor, who reportedly told him he was hurt in the leg.
A social media alert sent out by the TV station hours later reported the driver's version of the accident corroborated that of Mr Ngengi, who said he was being driven by a female police officer behind the governor's car.
But of interest is that two weeks ago, he was also at the scene of the Lake Nakuru helicopter crash where five people died.
After the crash on October 21, Mr Ngengi, who described himself as a "State pilot", told the NTV crew he was a friend and colleague of the deceased pilot.