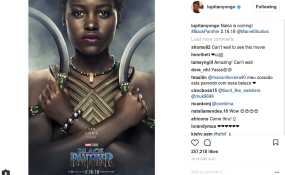 Photo: Lupita Nyong'o/Instagram
By Thomas Rajula
Lupita was back on Twitter November 9 after having last tweeted on October 16.
Similar to last time, she was tweeting a poster of Black Panther movie. However, unlike the last one which had the whole ensemble of the main cast, this was a poster that featured only her in character as Nakia.
In the Black Panther narrative, Nakia is a member of the Dora Milaje - an elite group of female bodyguards, and potential wives, of the King of Wakanda - who is often sent on missions around the world.
On the poster she is seen holding her weapons of choice, the ring blades, with her arms across her chest. On her left wrist are the Kimoyo Beads, pieces of advanced communication technology adapted from Vibranium by the Wakandans to serve a number of purposes.
Green is basically seen to be the theme of her character, as she has green and gold on her costume, and different shades of beads on her rings and necklace. The actress looks very appealing as she stares with intent into the distance beyond the lens.
With her deep, purple lipstick and glowing skin, you can almost start to believe Lupita would never go wrong with any look she wants to pull.
The movie is set for release in April 2018 and Lupita's was among many other character posters that were released by Marvel Studios as the ongoing promotional activities behind the hugely black, main cast superhero movie.
Others included that of fellow Dora Milaje, Okoye, (played by Danai Gurira), Chadwick Boseman as T'Challa, Thcalla's mother Ramonda (Angela Bassett) his sister Shuri (Letitia Wright), Michael B. Jordan as Erik Killmonger, Forest Whitaker as Zuri, Daniel Kaluuya as W'Kabi among others. It is an ode of sorts to costume designer Ruth E. Carter's vision and execution of "Wakandan" fashion sense.