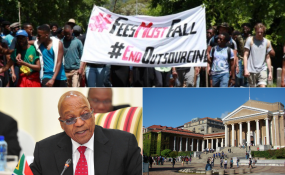 Photo: allafrica.com
analysis
The South African Social Security Agency (Sassa) grant payment contract controversy is receiving attention. The Heher Commission of Inquiry report on fee-free tertiary education is being processed. As President Jacob Zuma on Thursday sidestepped pressing public interest issues in his address to the National Council of Provinces (NCOP), he indirectly answered critics by calling for unity and patriotism - and an end to "bad-mouthing" South Africa, while again mocking opposition parties for having dololo (nothing) to contribute. By MARIANNE MERTEN.
The nice thing about the annual presidential address in the National Council of Provinces (NCOP) is exactly that - a lecture, a one-way communication without those pesky questions that must be faced four times a year just up the parliamentary corridor in the National Assembly. And in the NCOP, unlike the NA, loud heckling is considered disruptive behaviour.
And so, without the blatant obviousness of political noise, it was NCOP Chairperson Thandi Modise, who stuck in a stiletto, dressed in accolades, under the theme: Deepening unity in action for inclusive growth and Africa's Renewal - reclaiming the legacy of OR Tambo.
"Our strength has always been to talk, to argue... to find one another," she said in a speech ranging...