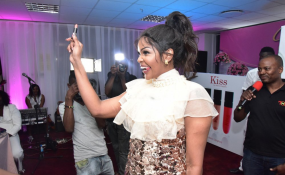 Photo: The Nation
By Thomas Matiko
Wema Sepetu's lipstick brand, aptly named 'Kiss', has been banned by the Tanzanian Government.
The famous actress, model and Diamond's ex-girlfriend launched the lipstick brand in 2015 on her 26th birthday where she also gifted herself with a Range Rover.
Reports indicate that the Tanzanian Government has now banned the product from its market for what it terms as failure to meet the necessary requirements.
It has been reported that prior to the ban, the product was off the shelves in various distribution stores in Dar es Salaam, a situation that saw the bongo movie A list actress reap generously from the investment.
According to the reports, the standard product watchdog in Tanzania TBS (an equivalent of Kenya's KEBS), and The Tanzania Foods and Drug Authority (TFDA) stopped the distribution of the lipstick saying that it had found out that it was unfit for human use.