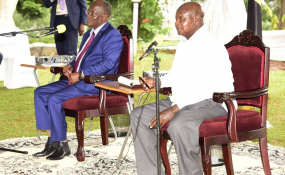 Photo: The Independent
By Malik Fahad Jjingo
President Museveni has lauded his Tanzanian counterpart John Pombe Magufuli for fighting corruption in his country .
While addressing journalists at Masaka State Lodge on Friday, Mr Museveni said he was also picking some lessons from Mr Magufuli to win the war on corruption .
Mr Museveni blamed his failure to fight corruption on bureaucracy and institutions which he said are used by corrupt people thus making the fight against corruption tricky.
"Whenever you try to take action of suspending a wrong doer, he runs to public service commission or courts of law for protection because wrong people are misusing institutions to protect themselves," Mr Museveni said.
Uganda was ranked 151 of the 176 countries in the 2016 corruption perception index (CPI) annual report released by Transparency International.
"We shall not have to spend a lot of money on compensation of people where the oil pipe line will pass because a section of land where the oil pipeline will pass in Tanzania is belongs to government and the Tanzanians are not greedy as Ugandans who don't cherish the benefits of the project ,but instead look at compensation and some end up exaggerating the value of their land." He said
Mr Magufuli said that Tanzania was losing a lot of money to either ghost workers or students which prompted him to create new institutions to fight corruption to save the money the country was losing which money can be invested in other development projects.
Meanwhile, two Memoranda of Understanding were signed between the two countries towards the implementation of the east African crude oil pipeline construction. Estimated to cost $3.55 billion, the line will transport Uganda's crude oil from Hoima District to Chongoleani peninsula near the Tanga port in Tanzania for export overseas.
Mr Museveni also praised the Tanzanian government for giving out land where the East African Crude Oil Pipeline will pass saying that this will reduce on the production expenses for Uganda.
According to the project report, the 24-inch diameter pipeline will move 216,000 barrels of oil per day at a cost of $12.2 per barrel.