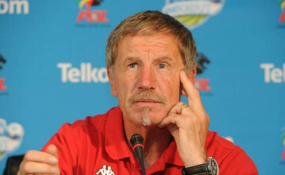 Photo: Africa Top Sports
After failing to beat Senegal and qualify for the 2018 World Cup, Bafana Bafana coach Stuart Baxter said his team is better than ticket holders Nigeria and Senegal.
The Taranga Lions beat Bafana Bafana 2-0 at the Peter Mokaba Stadium in Polokwane, South Africa after their previous outing was cancelled. Joseph Lamptey was suspended after last November's meeting, which the Bafana Bafana won 2-1. The Ghanaian referee awarded a penalty against Kalidou Koulibaly - with replays showing it hit his knee.
The coach said although Nigeria and Senegal could boast of better players, his team are not far off as they are only lacking in application of some basic ideas.
He said: "Maybe I'm blue-eyed but I don't think this team [Senegal] or Nigeria are better than us. "They may have the big names but with the right sort of application we can certainly move forward."