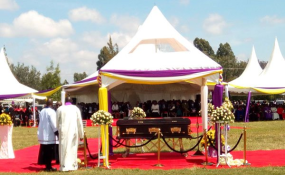 Photo: Dennis Lubanga/Daily Nation
By Barnabas Bii, Dennis Lubanga
Thousands of international and local leaders on Saturday attended the burial of Eldoret Catholic Bishop Cornelius Korir and eulogised him as a peacemaker and a mediator who reconciled warring communities during his 27 years of evangelism.
The leaders, who included President Uhuru Kenyatta and his Deputy William Ruto, appealed to Kenyans to emulate Bishop Korir's peace crusade and remain united irrespective of their political differences.
PEACE CARAVANS
"Bishop Korir was not only a spiritual leader but a leader of actions for all. Many a times, he wanted us to plan for peace caravans and empowered communities who were involved in conflict to facilitate long-lasting harmonious relationship," said President Kenyatta, while describing Bishop Korir as an icon of peace and his death as a blow to peace initiatives in the country.
Catholic Bishops led by Cardinal John Njue and clerics from other countries attended the mass for Bishop Korir, 67, who was buried inside a tomb next to the grotto of Virgin Mary at the Sacred Heart of Jesus Cathedral in Eldoret.
"The respect for human dignity and love, his desire to see a peaceful and united Kenyan is what Bishop Korir has left behind for us to emulate. This forms the foundation for our development as a country," added President Kenyatta. He was particularly full of praise for Bishop Korir for his peace work dating to the 1992 ethnic clashes and the 2007/ 2008 post election violence.
The Head of State called for tolerance among the country's political class, noting that any act of incitement could plunge the country into anarchy.
POLITICAL OPINIONS
"As political leaders, let us use Parliament and courts among other constitutional instruments to solve our differences.
"We may disagree on our political opinions but we should follow the provisions of the law in resolving our disputes," said President Kenyatta.
Deputy President William Ruto described Bishop Korir as a mediator who brought together the warring pastoral communities in North Rift region through his peace and socio-development economic initiatives.
"Bishop Korir taught us unity and peace and he lived it. He taught us to resist division, hate, ethnicity and violence which we have to emulate to promote peaceful coexistence in our society," said the DP.
He challenged the pastoral communities to practice the teachings of peace by Bishop Korir and discard cattle raids and banditry, which have led to loss of lives and property.
"We need to commit ourselves to peace and never again should we shed blood because of political contest," said Mr Ruto.
DANIEL MOI
Retired President Daniel Moi in a message read by Rongai MP Raymond Moi described Bishop Korir as a reformer who advocated for peace during introduction of multi-party politics in 1992.
"I remember him as a genuine man of the people who always preached peace especially during trying moments," said Mr Moi.
Leader of majority in the Senate Kipchumba Murkomen promised to implement the peace projects initiated by Bishop Korir especially those bringing together the warring communities in the cattle rustling prone parts of the North Rift region.
"Our commitment as leaders from the North Rift is that, in honour of Bishop Korir, we shall be peacemakers.
"He played a major role in 2007 and we know that at no time will we see a repeat of the same," said Mr Murkomen.
CONFLICTS
Uasin Gishu Governor Jackson Mandago vowed to work with the Catholic Church in implementing peace and development projects aimed at resolving armed conflicts in the region.
"As leaders from the region, we shall work with his successor to ensure that projects initiated by Bishop Korir are fully implemented," said Governor Mandago.
John Cardinal Njue, who led a host of other Catholic archbishops and bishops in conducting the burial mass, said it was the responsibility of all Kenyans to remain united instead of being divided along ethnic and political backgrounds.
"Let us build bridges of peace and not war. We should not waste our time on issues that will divide us more instead of bringing unity," said Cardinal Njue.
Catholic bishops from other continents including Europe attended the burial and called for peace among Kenyans.
Head of Anglican Church of Kenya Jackson Ole Sapit described Bishop Korir as a true peacemaker who worked with clerics from other denominations in resolving conflicts.