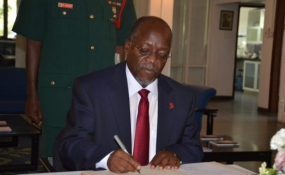 Photo: Daily News
opinion
By Erick Mwakibete
As President John Magufuli clocked two years in office last week, much was said about how he has changed the country within such a short period of time. In a few months, he will be half way his presidency.
The government through its chief spokesperson, Dr Hassan Abbas, outlined key achievements although some of these "achievements" are still works in progress like those in infrastructure and continued efforts to revive the national carrier.
One of the areas, which warrant more attention is corruption.
President Magufuli launched an anti-corruption war, which has witnessed ongoing high profile court cases, establishing the anti-graft special court and dismissing public officials considered to be corrupt.
To put this in perspective, by 2015 the country lost to the tune of at least Sh400 billion from the national budget to corruption and mismanagement.
Most of his predecessors fought against corruption and lost be it in the public sector or in politics. Despite enacting laws to deal with corruption, it thrived partly because of the many factions within the ruling party (CCM), which meant that the many factions were equally powerful and made it very difficult to prosecute corruption. Each mega corruption scandal paled previous scandals.
President Magufuli's consolidation of power within CCM by weakening the factions, which had existed and thrived for more than two decades implies removing one of the biggest obstacles in fighting systemic grand corruption. To appreciate this, one has to consider the circumstances which paralysed retired presidents Jakaya Kikwete and Benjamin Mkapa's efforts to root out grand corruption.
With high profile CCM members, who were influential and held positions within the government accused of corrupt dealings, the efforts were never enough.
The miasma of corruption alienated ordinary people and gave political munitions to opposition politicians, while fuelling factionalism within CCM.
Two years on, President Magufuli's government has managed to avoid the kind of mega-corruption scandals, which became a common feature of our political landscape. Recent cabinet reshuffles are more about lack of due diligence and not corruption allegations or factional power struggles within CCM as had been the case in recent years.
Despite such a performance over the two years, there is lot that has to be done to root out corruption. There are many challenges, which remain.
One of the peculiar traits of the anti-corruption drive under President Magufuli has to do with public perception of his efforts. People have always hated corruption, but in many cases it was more envy than hatred, where there are those, who lamented, when they heard of government officials, who retired without stealing a shilling from the government. They were seen as "fool" individuals, who had failed to use effectively the opportunities before them.
The reaction about those facing court cases for their alleged corruption sounds like payback than genuine hatred of corruption. This is a problematic mindset because it does little to ensure that people hate corruption regardless of their circumstances and has little to do with justice.
It is undeniable that the current anti-corruption drive is due to the man in charge and not institutions tasked with dealing with this cancer.
This means the gains made are very fragile as they are not institutionalised and can easily be reversed, when President Magufuli's time in office comes to an end. He understands that the groups, which supported him and his party the most in 2015 of rural residents, women, older people and those without higher education are most affected by corruption as they are easily marginalised and have little or no access to the people in power. There is no doubt his efforts so far please them.
The institutions at the forefront of the fight against corruption like the PCCB have to be more independent than they are now by removing them from the president's office because at the end of the day the president is a politician and with a different president it is easy to politicise the fight against corruption.
It has been intriguing two years. To win the fight against the cancer that has threatened the country's stability, more needs to be done.