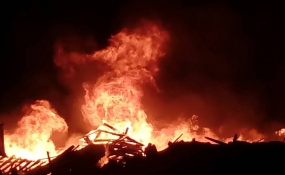 Photo: ZNBC
By Fred Wambede& Leonard Mukooli
Mbale — Hundreds of traders in Mbale Town are counting losses after fire gutted Bugwere market in industrial area, leaving merchandise worth millions of shillings in ashes.
The fire, which broke out at about 3am on Sunday morning when traders had closed their business, has left vendors wailing.
The cause of the fire is still not known but a security guard identified as Deo Wambi, said it could have been caused by short circuit.
The chairperson of Bugwere road market, Mr Moses Musayi said the fire destroyed over 300 stalls belonging to different vendors.
"Merchandise worth millions of shillings has been burnt to ashes after the fire swept through the market. It has left us in pain because this is our livelihood," Mr Musayi, said.
He said businesses that were burnt included electronics, saloons, groceries, restaurants and stores for rice, maize and beans, estimated to be worth over Shs500 million.
"We watched on helplessly as our goods and services went up into flames," he said.
The fire fighters had a rough time putting off the inferno as some vendors castigated them of delaying to respond in time.
"We alerted them earlier but they arrived a bit late when part of the market had been burnt. This is very unfortunate," Mr Manshur Nazeba, one of the vendors dealing in food staffs said.
Mr Abubaker Gidudu, another vendor, said the loss is a huge setback in their businesses.
"I had just stocked my rice ahead of the festive season. This is a huge setback," he said, adding that over one hundred bags of rice were destroyed.
The Elgon Police spokesperson, Mr Suwed Manshur when contacted said they launched investigations into the matter.
"We have not yet established the extent of damage and cause of the fire but it believed to have started from illegal connection from one of the a shops".