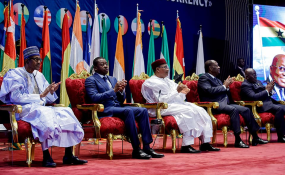 Photo: Premium Times
By Abbas Jimoh
The United Global Resolve for Peace (UGRP) has urged the Economic Community of West African States (ECOWAS) Commission and Parliament yp hold off plans and proposals to implement ECO as the common currency for West African states, which is due to take off by 2020.
President Muhammadu Buhari recently urged the commission to shelve the idea citing challenges being faced by the European Union (EU) in realizing similar goal, due to the necessary economic fundamentals among countries that would continue to differ over the years, making it more difficult to pull through with the project.
The forum said that this is imperative to build formidable structures to make the monetization policy efficient and effective.
Executive Director of the organisation Olaseni Shalom in a statement said that while the issues which the idea came to resolve like double figures inflation rates, double taxation policies and uncertain and unpredictable exchange rates among others, yet the proposals are not tenable at least for now and thus the commission should rather channels its resources to machineries that will sustain the policy if and when implemented.
He listed such as regularization of exchange rates of all currencies serving as legal tenders in West Africa, granting and implementing standard criteria for calculating GDP for member States from internally generated revenue, increasing the purchasing power of local currencies of member states and establishment of the West African Central bank.
"The ECOWAS Commission and Parliament are hereby urged to develop policies and laws to increase the economic capacity of member states to individually compete in the global market. The organization should render quality assistance to the member states to look to internally generated revenue and increase their export leverage in the international market," Shalom said.
He also urged the commission and the parliament to commence modalities towards the creation of an Anti-terrorism Taskforce comprising of volunteer military force from all the member state, as a panacea to disturbing menace of terrorism in West Africa.