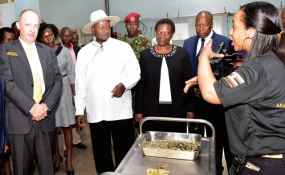 Photo: The Independent
By Haggai Matsiko
Kampala — President Yoweri Museveni commissioned it on Feb.20 amidst pomp and celebration, but just nine months later African Gold Refinery (AGR) has run into big trouble. Its Belgian owner, Alain Goetz, has been uncovered as a dealer in so-called "conflict or blood gold" and is being sued by the government's top financial anti-corruption agency and one of the company directors.
As the saga unveils, Goetz remains adamant, denies all accusations, and refuses to answer requests for information by powerful offices; including that of the Inspector General of Government (IGG), and the Financial Intelligence Authority (FIA). The company's refusal to register with the FIA and disclose its operations has raised red flags over its secret deals.
The IGG had earlier in a July 15 letter titled "Alleged aiding and abetting by government officials of fraudulent issue of mining concessions to African Gold Refinery limited," written to AGR demanding access to documents to facilitate its investigation.
In desperation, the FIA has written to the Director of Public Prosecutions (DPP), Mike Chibita, to prosecute AGR for alleged money laundering. Details remain sketchy but Goetz allegedly has laundered about US$1 billion.
"We hereby refer this matter to the Office of the Director of Public Prosecutions to prosecute African Gold Refinery Ltd for committing an offence under the Anti-Money Laundering Act, 2013," reads an Oct.11 letter from Sydney Asubo, the executive director, FIA.
FIA issued these letters while working hard to make sure the company complied with international anti-money laundering laws. Non-compliance, in 2014, landed Uganda on the Financial Action Task Force (FATF) watch list of risky countries.
FATF is an inter-governmental body established to set standards and promote effective implementation of legal, regulatory and operational measures for combating money laundering, terrorist financing and other related threats to the integrity of the international financial system.
To be on the FATF's list of risky countries makes a country unattractive to international investors and lenders.
The FATF only removed Uganda from the list early this November but cases like AGR's alleged crimes could reverse this gain. It is possibly why Asubo and other government agencies are cracking the whip.
According to correspondences seen by The Independent, Asubo was forced to take the matter to the DPP after AGR refused to comply with the law by ignoring repeated requests from the FIA for disclosure.
FIA first wrote to AGR on Aug. 24 requesting AGR to provide a copy of their operating licence and to register with them as an accountable person. The Anti-Money Laundering Act conditions dealers in precious metals and gems to register with the FIA as accountable persons.
When AGR did not respond, FIA wrote again making the same demands on Sept. 25. AGR ignored this request too.
Correspondences show that on both occasions AGR received these letters as they bear signatures of AGR staff and a stamp showing that they were received.
It is unclear whether or how Asubo's case will proceed because up to this point Goetz has allegedly refused to comply with orders and demands from government agencies and prompted allegations that his impunity results from his belief that he is protected because they are politically connected.
But that influence peddling could end soon according to information The Independent is privy to. For example, although Goetz's company board is chaired by Richard Kaijuka, the former minister of Energy who is now an advisor to President Museveni on Mineral Value Addition and Museveni's brother-in-law, one Barnabas Taremwa, was involved in setting up AGR, rifts have since emerged.
"If it is true, I am extremely shocked and surprised because as chairman, I have always insisted on strict compliance, transparency and accountability," said Kaijuka when contacted about the latest charges against AGR.
"I need to point out, however, that I am not up to date with current and immediate past operations of AGR since I was sick and admitted in hospital in the U.S. from May to end of August. What surprised me was the unpleasant communication from AGR I received while I was sick."
Apparently, AGR informed him through an email that African Gold Refinery Limited will no longer require you as a Board Chairman as of 1st August 2017.
Interestingly, Kaijuka had been cautioning Goetz about malpractices.
"You will also recall that as AGR chair I have been urging you to hold regular Board meetings but in vain to ensure that AGR conforms to good corporate governance practices of accountability, transparency and responsible sourcing of gold from the region," reads part of Kaijuka's response, "Are you dismissing me so that you can keep a blind eye to all these issues?"
Apart from the fall out with Kaijuka, AGR is being sued for reneging on agreements by Taremwa who is connected to the Museveni because his sister, Jovia Saleh is married to the President's brother, Gen Salim Saleh.
In October 2016, shortly after AGR ran into troubles with the IGG, Taremwa filed a court case against AGR because he had been cut out of the deal after negotiating a major tax break and supply for the refinery.
Taremwa also told Global Witness that some of the gold processed in the refinery comes from the neighboring DRC and South Sudan. Activists say there is a real risk that it could be funding conflict and human rights violations.
In yet another twist , the Commissioner of the Directorate of Geological Survey and Mining (DGSM); Edwards Katto, in a letter dated January 2017, told the global transparency body, Global Witness, that the DGSM "has not issued any export permits" to AGR. The means any gold exports by AGR are illegal.
But while DGSM recorded gold production and export of only 93kgs in 2015/16, reports from the Uganda Revenue Authority indicate that during the same period 5,316Kgs of gold was exported with a total value of US$195 million- the majority of which was recorded by AGR.
"This discrepancy in official government figures suggests import and production under-reporting on an epic scale leading to lost revenues, and suspected smuggling," Global Witness noted, "Put simply while we can now see how much gold is leaving the country its origin and the conditions under which it was mined and traded are still unclear."
Global Witness also revealed that AGR had processed and exported over US$200 million worth of gold from Uganda, paying only half a million dollars in tax and failing to publish information about where it came from
Goetz's tainted past
Other sources say, however, that Goetz is really not bothered by the circus around him because he has been dealing in murky gold trade for a long time and knows its twists and turns better than his pursuers.
The FIA has existed only since 2013 to fight money laundering and terrorism financing and its boss, Sydney Asubo is a law and banking professional who is new in fighting financial crime.
Goetz, meanwhile, is the son of Tony Goetz who was a famous Belgian dealer in Congolese gold as far back as the 1990s when Ugandan troops invaded the DR Congo and allegedly plundered its mineral resources. Together, the Goetz's reportedly dominated gold exports from the Congo through their networks in Belgium and later Dubai.
Based on this background, it is not clear why Museveni is schmoozing with a person with a tainted past that he probably knows about.
AGR, which is owned 100% by Goetz has operated a $ 20 million gold refining complex located in Entebbe since 2014 but was officially launched by Museveni in February this year.
Questions about AGR's gold were raised almost immediately when it was announced that it had exported US$ 200 million worth of gold. Given that Uganda's gold exports for the last year were just US$ 40 million, activists warned that the facility could be using raw gold from conflict-ridden South Sudan and Eastern Congo. In that case AGR could be seen as directly fueling violence in the region. But AGR's directors dismissed these concerns.
Just four months after its commissioning, however, global transparency campaigner, Global Witness, published a report raising concerns about Uganda's mining industry and specifically about AGR.
According to the report, it appears that in order to hide its dealings from the authorities, Goetz has operated several secret companies.
Global Witness analysis of the URA export figures shows that for the vast majority of its official exports, the exporter name recorded is 'Goetz Gold LLC' and 'AGOR DMCC' and not the official company name which is 'African Gold Refinery Limited'.
Goetz has also allegedly exported as 'Belgian Precious Metals Indust' and 'Alain Goetz.' Global Witness concludes that it appears all these companies are related and are trading in gold.
The report, titled, 'Undermined: How corruption, mismanagement and political influence is undermining investment in Uganda's mining sector and threatening people and environment', was released in June. It caused a stir in the mining sector because of the names it put at the centre of corruption in Uganda's mining sector.
Kaijuka, Saleh, his wife Jovia Saleh and sister-in-law, Kellen Kayonga, brother-in-law, Taremwa, former Energy PS, Kabagambe Kaliisa, international investors, politicians and technocrats at the Directorate of Geological Survey and Mining (DGSM) were all named in the report.
The report also raised concerns about how President Museveni, without following due process, directly influences the award of deals to investors, who sometimes turn out fake. Others evade taxes, abuse human rights, and harm the environment.
Dodging taxes
On AGR, the report noted how Museveni had while launching the refinery in Entebbe ordered a tax waiver on gold to be processed by AGR that is either produced in or transits through Uganda. The President said that would prevent smuggling of unprocessed gold and promote the refinery.
"This will provide a strong incentive for regional gold to be channeled through African Gold Refinery before making its way into international markets," Museveni said.
But Global Witness warned that it was not clear that Museveni's tax waiver would lead to an improvement in the recording of production and imports.
"It will certainly undermine potential tax revenues for the government," Global Witness warned and it now appears to have been right.
Global Witness says while the refinery AGR owners are shipping hundreds of millions of dollars' worth of gold out of Uganda without disclosing its origin and paying very little tax in the process.
The company reportedly processed nine tons of gold during 2016 and official estimates of the tax exemption and unpaid taxes over that period are over Shs80 billion; which is bigger than the annual budgets of many government ministries and departments.
An AGR press release from February 2017 showed that the company had paid a total of US$515,000 in taxes since they started their operations. AGR said that "all duties are correctly paid by AGR as per our formal agreement with the government of Uganda."
But when asked to provide detailed information on the origin of the gold the refinery processes, AGR did not provide it.
Instead, the company said it "is not a trading company but a service company providing industrial services such as assaying, melting, refining, and the shipment and delivery of precious metals. AGR does not trade in any precious metals."
It added that the company "is therefore exempted from certain taxes and royalties that only apply to mineral exporters."
Global Witness wants further investigations into AGR's dealings and asks that the company publishes information on the volume and country of origin of its annual gold purchases.
"AGR should also conduct supply chain due diligence on the gold it purchases or processes and report publicly and on an annual basis on its efforts, in line with the OECD Due Diligence Guidance," the campaigner notes.
It adds: "This should include information on risks identified and how these have been addressed. Goetz Gold LLC and AGOR DMCC, as government recorded exporters of gold from Uganda, should also meet these standards."
But its past behavior shows that AGR is not likely to comply. What is not clear is whether Museveni will allow the IGG, FIA, the DGSM and other government agencies to either reign in AGR or prosecute it for flouting disclosure laws under the Anti-Money Laundering Act, to uncover the truth.