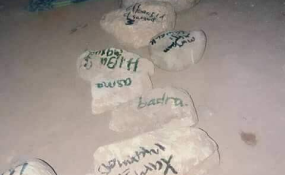 Photo: Rooble Mohamed/Twitter
Residents are reporting that troops from Puntland and Somaliland are less than 3km from each other in the disputed Sanaag region with the former threatening to fight to avoid elections from taking place.
Puntlands cabinet had this week resolved that it will not allow Somaliland to conduct the elections in the disputed regions.
Somaliland's Kulmiye Presidential Candidate Muse Bihi Abdi has warned Puntland from making any military movements in the disputed regions.
Wadanis candidate held a press conference echoing similar concerns
"Somaliland will hold election in all parts of its territory and not outside. We want free, fair and peaceful election. The announcement made in Puntland's parliament is an external interference. We shall report this to the international community" Abdirahman of Wadani party told media.
Puntland and Somaliland has been in conflict over the Sool, Ayn and Sanaag region since the latter declared independence from Somalia.