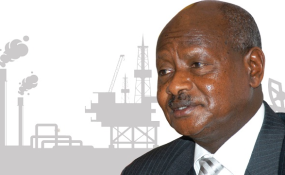 Photo: The Independent
By The Independent
Hoima — President Yoweri Museveni and Tanzania foreign minister Dr. Augustine Mahiga have laid a foundation stone at the start point of the 1,445km-long East Africa Crude Oil Pipeline (EACOP) in Hoima, Uganda.
Saturday's function marked the climax of the visit by Tanzania's president John Magufuli, who inaugurated the Mutukula One Stop Border Post on Thursday and signed several agreements with his Ugandan counterpart on Friday and early Saturday. Mahiga represented Magufuli at the EACOP event in Hoima.
In August, Museveni and Magufuli commissioned the construction of pipe line from Hoima district in Uganda by laying the first foundation stone at the Tanzanian port of Tanga.
The heated crude oil pipe line, the longest of its kind in the world, will cost $3.5 billion and will be completed by 2020 making Uganda join the ranks of oil producing countries.
The pipeline works will be undertaken by Total E&P, CNOOC and Tullow Oil together with the two governments of Uganda and Tanzania. The pipe line will on completion carry 216,000 barrels of crude oil for export daily.
THE OIL PIPELINE ROUTE
Tanzania's Dr. Mahiga hailed Uganda for the discovery of oil and investment in scientists to ensure the project succeeds.
"We should indeed encourage scientific studies to have discoveries done by our own people," he said.
He also hailed Uganda's role in peacekeeping across the continent, especially Somalia.
"I saw Africans dying for Africans. Uganda soldiers demonstrated remarkable spirit never demonstrated in annals of military history in Somalia. That is the greatest exhibition of pan Africanism by Ugandan soldiers," he said.
Uganda's Energy Minister Irene Muloni said government has put in place laws and policies to ensure our people are trained and employed in the oil production process. "We intend to train and certify Ugandans to work in the oil production process," she said.
"We are determined to make the oil story in Uganda a blessing and not a curse," Muloni promised.
She said they have compensated 98% of the over 6,000 home steads affected by the pipeline. The districts the pipeline will go through are Hoima, Kakumiro, Kyankwanzi, Mubende, Gomba Rakai and Kyotera.
The said the oil refined in Uganda will be used to produce petrol, diesel and aviation fuel.