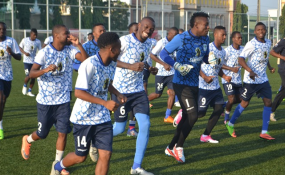 Photo: Daily News
Farid Mussa will miss the Sunday match against Benin after he was pronounced unfit for the action. Mussa joins Mbwana Samatta as the latest victim of injury -hit squad of Taifa Stars which left early yesterday for Benin.
Tanzanian envoys play hosts Benin in the FIFA calendar friendly match on Sunday in its capital, Cotonou.
Mussa who is plying trade with the Third Division League Spanish side, Club Deportivo Tenerife, is latest withdrawal from the squad which will face Benin at the Stade de l'Amitié this Sunday. He joins the team's skipper Mbwana Samatta who was forced to withdraw due to knee injury.
The national team coordinator, Ahmed Mgoyi, said the player has been on his club injury list and was still nursing the injury. He added his club has been hesitating to release him for the Benin game so as to ensure the player passes the fitness test.
"We have been in contact with Farid Mussa's club and we are doubtful that the player can't make it to Benin to join the rest of Stars squad as he is still nursing injury and not fit to play, certainly we may miss him," Mgoyi was quoted saying yesterday in Dar es Salaam.
The absence of the two strikers is big blow to Salum Mayanga's squad as both are urgent to score goals against Benin who are ranked 79th according to the latest FIFA rankings of October.
If the Stars win in Coto nou, Tanzania might record sky-high leap in the next rankings to be released on November 23. Samatta and Mussa were expected to join Taifa Stars squad in Benin from their respective clubs KRC Genk and CD Tenerife.
Stars have not been impressive in rankings as the team dropped 11 places in last FIFA ranking, to claim 136th position. Only a win in Benin will see them climb up several positions.
According to the Tanzania Football Federation (TFF) the contingent of players left early yesterday for Benin had goalkeepers Aishi Manula and Peter Manyika.
Defenders: Gadiel Michael, Boniphas Maganga, Kelvin Yondani and Nurdin Chona. Midfielders: Himid Mao, Hamis Abdallah, Raphael Daudi, Mohamed Issa, Jonas Mkude and Muthadir Yahya Strikers: Simon Msuva, Shiza Kichuya, Ibrahim Ajib, Mbaraka Yusuph and Elias Maguli.
However, Coach Mayanga is still confident that his side will perform despite missing some of his key players especially the team skipper who will be out of action for about six weeks due to the knee injury picked during Genk game against Lorente last Saturday in Belgium top flight league fixture.
The two sides have met thrice. Benin won both first and second encounters in a home and away matches played in 2002. They won 4-0 at Stade de l'Amitié in African Cup of National qualifier and went on to win 1-0 in a return leg of Dar es Salaam.
The last time the two sides met was three years ago in friendly encounter which Tanzania's Taifa Stars won 4-1.