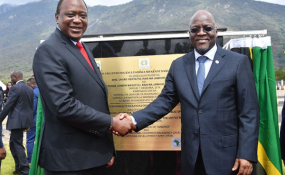 Photo: The Citizen Tanzania
By Zephania Ubwani
Arusha — Multiple border checks in East Africa have been wasteful, the East African Community (EAC) secretary General Liberat Mfumukeko has said.
"They have caused unnecessary costs to business. Unnecessary restrictions should be done away with", he said last week during the opening of the One Stop Border Post (OSBP) at Mutukula.
He said as the facility was launched by Presidents John Pombe Maguruli and Yoweri Museveni of Uganda that OSBPs were not entirely knew because they were envisioned in the EAC Common Market Protocol.
"The first OSBP operations was at Malaba railway station between Uganda and Kenya over ten years ago. These pilot programmes provided a practical justification for upscaling the One Stop Border programme in the entire region", he said.
He added that it was long that the Customs Departments of the partner states realized that multiple examination of goods at their internal border within EA was "wasteful and caused unnecessary costs to business".
The construction of the Mutukula OSBP was carried out with funding of $11.7million from the United Kingdom through the Department for International Development (DFID).
The systems and other related soft infrastructure equivalent to $1.2million was funded by the Government of Canada, through Global Affairs, Canada.
The OSBP investment includes office buildings, roads and parking yards, cargo verification bays, scanner shed, passenger sheds and targeting booths.
Others are warehouse and canopies, ICT networks and hardware, furniture, and institutional support to the border agencies.
EAC says OSBPs would not only ensure effective border control mechanisms were in place but would boost trade by cutting the time taken to clear goods between the two Partner States, thus contributing to a reduction in transport cost.
The shared Mutukula border post in particular is also set to increase volumes of transhipment cargo through the Central Corridor. It is expected that time to cross the border will reduce by at least one third.
UKAid provided over $52million to the East African Transit Improvement Programme (EATIP) through Trade Mark East Africa (TMEA), as a contribution to the World Banks' East Africa Trade and Transport Facilitation Project (EATTFP).
Speaking at the event, the UK High Commissioner to Uganda, Peter West said that increasing Uganda's trade with its neighbours and the rest of the world was vital for generating growth, promoting job creation and reducing poverty.
Trade Mark East Africa CEO Frank Matsaert said that the completion and operationalization of the Mutukula OSBP is a crucial milestone in increasing access to markets and the facilitation of the movement of cargo along the Central Corridor.
Official data shows that an average of 542 vehicles (310 of those cargo trucks) pass through the Mutukula-Mutukula crossing from Central Corridor into Uganda from Tanzania.
TMEA through its donors and in partnership with the EAC has since 2010 supported 15 OSBPs in East Africa including South Sudan and has invested about US$117 million in OSBPs and access roads.
They are: Kenya and Uganda's Busia/Busia, Kenya and Uganda's Malaba/Malaba, Rwanda and Uganda's Kagitumba/Mirama Hills, Tanzania and Uganda's Mutukula/Mutukula.
Others are Kenya and Tanzania's Holili/Taveta, South Sudan and Uganda Nimule/Elegu, Burundi and Tanzania's Kobero/Kabanga and lastly Tunduma on the Tanzanian side.
Trade experts in EA believe once all border posts are fully operational efficiency at the borders would improve by 30 to 40 per cent.