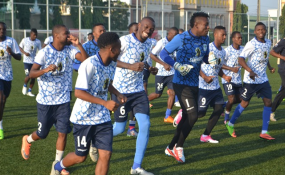 Photo: Daily News
Taifa Stars play hosts Benin in a friendly match at Stade de l' Amitie in Cotonou this Sunday, a match that players should take seriously as an event that counts in the FIFA World rankings.
It is the first time for Stars to play its FIFA date friendly away from home and against a country whose football environment is not similar to the much seen in East and central African region.
Taifa Stars players are going to face the country with a superior position in FIFA rankings, a situation that automatically, forces Benin to show their superiority over their visitors backed by their home crowd.
We would like to warn Stars player to expect "fireworks" in their match against the hosts, hence they must have a plan to overcome all these physical and psychological threats from their hosts.
The last time the two sides met in Dar es Salaam almost a decade ago, Tanzania won 4-1, hence we think the loss might still haunt the hosts. Taifa Stars will sadly miss the services of their key professional players like Mbwana Samatta and Abdi Banda due to injuries, but that should not make them lose hopes and fighting spirit.
For Stars, they must know that they are facing unknown team, unknown players, hence the best for them is to play cautious game while observing patience at the back and avoid mistakes.
Beating or even a draw away in Cotonou means a lot to Taifa Stars, but most importantly, is a climb by a big margin in rankings due to the fact Benin are placed far above Tanzania in the latest rankings. Benin are positioned 79th while Tanzania crawls far behind at 136th position.
Together than shaping the country's football image, doubtlessly, the success in Cotonou will give Stars honour and restore Tanzanian pride as well. Tanzania as a victim of inferior position in the World rankings as the country's players in several occasions denied professional contracts due the low status of the country football.
Mbwana Samatta, who plays for Belgian club couldn't play in England because of this. Only excelling in the international matches will help the country rid itself of this inferiority.
We wish our envoys all the best and their away mission as we rally behind them.