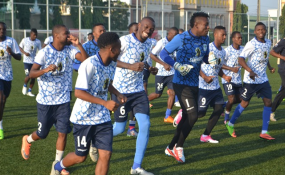 Photo: Daily News
By Majuto Omary
Dar es Salaam — National soccer team Taifa Stars head coach Salum Mayanga has said a victory against Benin will lift the country's chance of climbing in the world's soccer governing body (Fifa) rankings.
In the current Fifa ranking Benin is placed 79th, while Tanzania lies at position 139. This is a revenge encounter for Benin which lost 4-1 in a friendly held at the National Stadium on October 14, 2014. The weekend encounter is scheduled to be held at the Stade de l'Amitiein Cotonou.
Mayanga said Stars were going to face tough opposition from Benin due to the fact that most of the team's players were featuring in various major leagues such as France, Austria, Cyprus and Turkey.
"It is a good test for Taifa Stars, which is playing for the first time in Benin. We normally play our international friendly matches against Southern and East African opposition, but we managed to secure the game against Benin, which is among strong teams on the African continent," said Mayanga.
The tactician reavealed that players were currently in top morale and were ready to showcase their skills in the encounter. The team, including officials who took with them rice to prepare for the contigent while in Benin, left the country on Thursday.
"My selection of Taifa Stars players was based on theor performance in various league matches in the Tanzania Mainland premier league.
"The match against Benin will not be easy as we are playing a team that comprises experienced players who want a victory due to their previous 4-1 loss at our backyard," said Mayanga.
Mayanga said he was aware of the importance of the encounter even though team captain Mbwana Samatta was out of the squad due to injury. Other players who are not in the squad are Ramadhan Kabwili, Dickson Job, Mohamed Issa and Yohana Mkomola.
"We will train here (Cotonou) for two days before we face Benin. The match is scheduled to start at 6pm Tanzanian time and we hope to record the best result possible," he said. He said players such as Erasto Nyoni and Mzamilu Yasin were excluded from the squad after being shown a red card in the previous international friendly against Malawi at the Uhuru Stadium.
"I have replaced Nyoni and Yasin with Jonas Mkude from Simba Sports Club and Mudathiri Yahya from Singida United, as the two players have shown great progress in previous league matches and I believe they will fill the gap," he said.