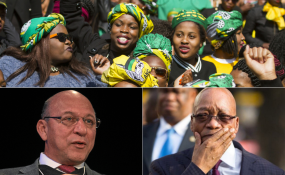 Photo: allafrica.com
analysis
Fierce debates raged in the ANC's national executive committee meeting over the weekend as the camps supporting ANC MP Nkosazana Dlamini Zuma and Deputy President Cyril Ramaphosa vied for control ahead of the party's national elective conference in just over a month's time. Meanwhile, on the ground in the "Premier League" provinces, an interesting story unfolds. By CARIEN DU PLESSIS.
Late on Sunday morning, the ANC's national leaders took a break from their rather difficult meeting. On the agenda was progress in preparing for the party's national conference to be held at the Nasrec Expo Centre, Johannesburg, as well as complaints about the Eastern Cape's provincial conference at the beginning of October. Described by Deputy President Cyril Ramaphosa as a "festival of chairs", the violence-marred East London conference saw the camp sympathetic to him winning. The camp that wants ANC MP Nkosazana Dlamini Zuma as president pushed back over the weekend. It is reported that they were planning to go on the attack about other issues too, such as Ramaphosa's public announcement of his running mates, which is not a convention in the ANC.
@Power987News tweeted on Sunday that ANC Secretary-General Gwede Mantashe was attacked in the meeting for his...