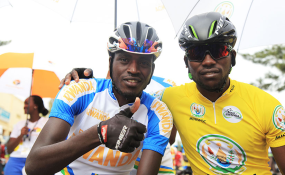 Photo: Sam Ngendahimana/New Times
By Peter Kamasa
Morocco national cycling team has withdrawn from this year's 9th edition of Tour du Rwanda which starts today with the traditional Prologue and will run until November 19.
On the first day, riders will compete in the 3.3km stretch from Amahoro National Stadium-Kimironko-Amahoro National Stadium, before heading to Southern Province tomorrow in Huye District for stage one that will cover a total distance of 120.3km.
The winner of the first day will start the opening stage wearing the Yellow Jersey in the race expected to be categorised by climbs and stunning scenery, going through different parts of the country.
Morocco's withdrawal was confirmed yesterday morning by the Rwanda Cycling Federation (FERWACY) president, Aimable Bayingana.
This reduced the number of participating teams to 15, including five national teams, five UCI continental teams and five club teams.
"Today (Saturday) we have been informed by Morocco that their team will not be able to take part in this year's Tour du Rwanda. They did not disclose the reasons behind but that cannot change our plan," Bayingana told Sunday Sport.
Morocco are the second team to pull out of the event following Japan's Cycling Academy, who had earlier registered, but later withdrew on Thursday.
Bayingana admitted that the withdrawal of the two teams will not affect their plans to organise a successful event.
The 2017 Tour du Rwanda will cover a total distance of 819km, and for the second consecutive year, will reach in all the four provinces of the country and Kigali.
After becoming part of UCI Africa Tour in 2009, Valens Ndayisenga made history by becoming the first Rwandan rider to win the race in 2014 and since then Rwandan riders have mastered the race.
Jean Bosco Nsengimana won the 2015 edition and Ndayisenga repeated the 2014 feat last year, making him the first rider ever to win the annual race more than once.
A total of 75 cyclists grouped in 15 teams from across the world, will for eight days, compete for the yellow jersey.
National Teams
1. Rwanda
2. Mauritius
3. Ethiopia
4. Eritrea
5. Algeria
UCI Continental Teams
1. Dimension Data for Qhubeka (South Africa)
2. Tirol Cycling Team (Austria)
3. Team Bike Aid (Germany)
4. Team Illuminate (USA)
5. DuklaBanskaBystrica (Slovakia)
Club Teams
1. Club Benediction de Rubavu (Rwanda)
2. Club Les Amis Sportifs de Rwamagama (Rwanda)
3. Team Lowestrates.com (Canada)
4. Team Haute-Savoie/Auvergne (France)
5. Team Kenya Riders Safaricom (Kenya)
2017 Tour du Rwanda stages
Nov. 12: Prologue: 3.3km
Nov. 13: Stage 1 Kigali-Huye 120.3km+ 4 categorized climbs
Nov. 14: Stage 2 Nyanza- Rubavu 180km+ 6 categorized climbs
Nov. 15: Stage 3 Rubavu-Musanze 95km+ 1 massive categorized climb
Nov. 16: Stage 4 Musanze-Nyamata 121km+ 4 categorized climbs
Nov. 17: Stage 5 Nyamata-Rwamagana 93.1km+ 3 categorized climbs
Nov. 18: Stage 6 Kayonza-Kigali 86.3km+ 4 categorized climbs (including the infamous "Mur de Kigali")
Nov. 19: Stage 7 Kigali-Kigali 120km+ 10 categorized climbs (one per lap of the circuit)