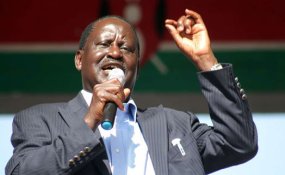 Photo: Nairobi News
By Chris Wamalwa
In three stirring speeches to Kenyans living in the US, Raila Odinga had cast doubts on the Kenya's unity and nationhood.
Mr Odinga, the National Super Alliance (Nasa) leader, declared that the country is experiencing fundamental challenges to its very existence.
BOYCOTT
Kenya, he said, stands the risk of disintegration if steps are not taken immediately to remedy the situation.
From Washington, DC, to Jersey City, New Jersey, Mr Odinga's message to mostly his supporters was that 'Project Kenya 'has failed, and that his recent boycott of presidential poll, call to mass action and formation of people's assemblies was a last-ditch attempt to forestall the conflagration.
"The real issue about Kenya is not the rigged elections. That is not the issue. The issue is deeper than that of just rigging of an election," he said in New Jersey on Saturday.
"When you see some governors stand up and say 'we want to secede from Kenya', supported by members of parliament and members of county assembly, then you must know that there is something seriously wrong with Project Kenya."
GRAFT
Mr Odinga said stolen elections, rampant corruption, misappropriation of public funds and a sense of entitlement by a small clique of the ruling elite has alienated most Kenyans, especially those from small communities.
"The economy is suffering because of mismanagement, people don't believe their vote counts, youth unemployment is at an all-time high and that is why we believe these problems need big solutions," he said.
Addressing his supporters who jammed an auditorium in Jersey City, New Jersey, the Nasa leader vowed to personally lead masses in peaceful protests when he returns to Kenya.
He said he would be at the forefront of public picketing, product boycotts, strikes and filing of petitions to pressure the Jubilee government to hold a fresh, credible poll.
SECESSION
Asked whether he supports calls for the secession of parts of Kenya, Mr Odinga said he does not support the breakaway but understands why some are calling for the move.
"I've said it in another forum that we are for a strong unitary nation of Kenya. The reasons why you see people talk about the possibility of secession are signs or symptoms of frustrations," he said .
"They feel they don't have a stake in their country... these are the issues that must be addressed."
Mr Odinga said Kenyans have a clear sense of their destiny with history and understand the role they have played in bringing about a more tolerant society through decades-long struggle for justice.
"That is why Nasa's leadership is centred on a campaign of peaceful resistance to an unlawfully constituted authority. We have convened a people's assembly to guide the country to a fresh, free and fair presidential election, as decreed by the Supreme Court," he said.
LONDON
While thanking Nasa supporters in the US for their continued support of the coalition, Mr Odinga called on Kenyans living abroad to be involved in the country's political and economic affairs because they have stakes in it.
He said he was in New Jersey to also launch the alliance's resist movement's USA chapter.
Nasa USA Team, chaired by Mr Amos Atonga, organised the meeting.
Mr Odinga, who leaves the US on Tuesday for London for another series of meetings, has been in America since Tuesday last week.
During his week-long tour, the former prime minister held meetings with key Congressional members, led by Chris Coons of Delaware, who is a member of the Foreign Relations Committee.
Mr Odinga is expected to arrive in Nairobi on Thursday to a grand welcome from his supporters.