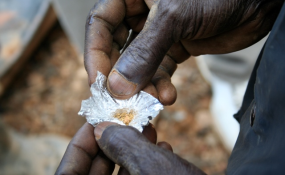 Photo: Daily News
Mines and Mining Development Minister Walter Chidhakwa has urged legislators to preach peace among artisanal miners he described as vagabonds and murderers.
This follows rampant cases of the violent attacks against each other, some which have resulted in deaths.
Chidhakwa was speaking in the upper house recently while responding to a question by Mashonaland Central Senator Alice Chimbudzi on what government was doing to civilise so-called makorokoza who use machetes, axes, among other weapons on each other while also leading carefree lives.
"What is really worrying is that these artisanal miners behave like thugs and vagabonds," said the Minister.
"Regardless of the level of education, whenever there is a misunderstanding over gold, they become vicious, vagabonds, murderers and we have seen that whenever there is gold rush in those places, these people rush to those places and at times when they meet underground and get whatever it is they want, they fight.
"One of these artisanal miners was telling me that whenever you are digging and you find that precious stone underground, do not tell your colleagues that you have found some piece of gold because you may be murdered or injured."
Chidhwakwa said most of the violence was being experienced in Mashonaland West areas such as Kadoma and Chakari and in Midlands areas like Kwekwe and Mberengwa. He said Manicaland was relatively peaceful.
He added: "In Mashonaland Central, there was some violence to a limited extent but this is unlike what is happening in the Midlands Province and Mashonaland West.
"As leaders of the people, let us talk peace to our people and to our youth. As the Ministry, we are giving them lessons and educating them on mining."
Zimbabwe's less educated artisanal miners are often associated with extravagance, violence and promiscuity that has often seen them indulge in unsafe sex in communities they pan for minerals.
Until recent years, the practice has been illegal but government incorporated them into the country's lucrative mining industry in attempts harness their produce.
This is after it had turned out that a lot of their produce was being smuggled out with no returns to the troubled but mineral rich country.
Government weighed in with a promise to teach the poorly equipped miners safer mining methods while encouraging them to sell their produce with Fidelity Printers and refiners at no questions asked basis.
But the cumbersome government registration and payment processes has seen most of them choose to stick to their old ways with fatal mining accidents often reported in parts of the country.
Chidhakwa said efforts have been made to teach the miners over safer mining methods.
"We are saying these artisanal miners should be taught about mining and the ethics which are necessary in mining and how people can cooperate in this mining programme.
"So, we have handed this over to the School of Mines," he said.