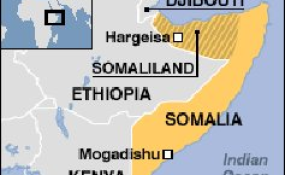 Photo: Garowe online
analysis
By Sella Oneko
Voters in Somalia's semi autonomous state of Somaliland went to the polls on Monday in a presidential election. The state has been seeking international recognition for 26 years without success.
For incumbent President Ahmed Mohamud Silaanyo, this was his last term in office. The president of the state that is internationally still treated as an autonomous region of Somalia, plans to hand over power to one of three fresh presidential candidates: Muse Bihi of Silaanyo's Kulmiye party, Abdirahman Iro and Fasyal Ali Warabe from the opposition. All are seasoned politicians.
There is no clear favorite, analysts say, which makes it an unusually interesting election for the region. "Very often, the winner is known before the election day," said Laura Hammond, a regional expert from the London-based institution SOAS.
While the self-proclaimed state has to date not received recognition as an independent state from any African or non-African country, the elections in Somaliland bear both domestic and international significance.
"Whatever the state of Somaliland is, the people of Somaliland are still here and still have the right to determine how they are governed," argued Michael Walls, chief observer of the International Election Observer Mission (EOM) to Somaliland. His team of 60 observers is made up of members of 27 countries and has taken on the task of observing both the campaigns and the polling exercise, as well as the legal procedures that may precede it.
Plans to deepen the port in Berbera with the help of the United Arab Emirates (UAE), is one of the main points of discussion around the elections. "This is a potential boon for Somaliland if the resources are managed in a transparent and responsible way and a real opportunity for Ethiopia which is landlocked and largely relies on the port in Djibouti," explained Hammond. Similarly, Kuwait financed the renovation of the main airport in the capital Hargeisa.
A second deal with the UAE to build a military base in Berbera is more controversial. "A lot of people feel that this was done without proper consultation and not everyone is fully in support of a military base by a foreign nation," said Hammond.
The relationship to Somalia
While domestic politics may determine the outcome of the polls, the debate about the recognition of Somaliland as an independent state is rife in the minds of everyone. Somaliland broke away from Somalia in 1991, when Somalia descended into a civil war. It has since tried to attain international recognition without success.
For the last 26 years, both African and western nations maintained that independence needs to come through negotiations with Somalia's government in Mogadishu. "That's frustrating for Somaliland because they say there's not really a responsible government in the south to interact with," said Hammond. "And why should Somaliland, which has generally had peace and security in the last 26 years be held back by a country in the south that has not been able to manage its own affairs, from a Somaliland perspective." On the other hand, Hammond says, many there are still southerners who live in Somaliland and vice versa. These people of course still hope for national unity.
Hope for fair elections
"Somaliland has a pretty impressive record in constructing peace in an area that is quite difficult and also in holding elections on a number of occasions to date," said Walls from EOM. With continued presence of Islamist militants in Somalia, the political crisis in Yemen and firm grip of power of Ethiopia's ruling party, free elections are a rare occurrence in the Horn of Africa. Even in Somaliland the elections were delayed for two years, after the end of the five year term in 2015.
For these elections over 700,000 voters - that's about 20 percent of the population - were the first in the world to register with biometric eye scanners. Political allegiances are very often determined through clan politics, which have in the past cast doubt over the electoral process. "There's a faith in the voter register that it's no longer rigged as it was in the past with multiple registrations and so on. So in that sense, the introduction of the new voter register has been very helpful in enhancing the integrity of the elections," said Walls.
Human rights groups criticized the government over a planned shutdown of social media services at the end of polling day. The government argued that it made this decision in an attempt to curb the spread of false information. Parliamentary elections are due to be held in April next year.
A geopolitical stake
What is also at stake for both the people of Somaliland and its neighbors is its handling of trade and diplomatic relationships. "For the youth, they need a leader who can develop the economy and bring jobs so that everybody can stay in their country to enjoy their lives," a university student, Ismail Mohamed, told the news agency AFP.
With a port in the Gulf of Aden, a sea route previously plagued by piracy that is key in connecting Asia to the Suez Canal and then to Europe, the international community sees Somaliland's stability as important.
Twenty-five years and counting
Since its establishment in 1991, the international community has stopped short of recognizing Somaliland as an independent state. But this quasi country continues to survive. Its isolation means little is known about it. Somaliland has 850 kilometers of unspoilt beaches. But Somaliland isn't entirely forgotten, not regionally, hence potentially crucial ties with Ethiopia continue to strengthen.
Creeping conservatism
Poverty and unemployment in Somaliland remain stubbornly high. Some locals already express concern about a steady drift toward Islamic conservatism in Hargeisa: music no longer blares out from tea-shops and more women are adopting black Muslim 'abayas' rather than colorful Somali robes. Others, however, say religious conservatism co-exists in harmony with a liberal free market society.
Long road ahead
Somaliland officials hope that their country will benefit from their ties to neighboring Ethiopia and that some of Ethiopia's economic growth will rub off. But much investment is needed at Berbera Port before more ships can arrive. The smart asphalt road Ethiopia built to the shared border becomes less suited to heavy traffic on the Somaliland side.
Hargeisa phoenix
Somaliland's tenacity finds its clearest demonstration in the capital, Hargeisa. "In 1991 it had been totally destroyed. It was rubble and waste," says Saeed Mohamoud, director of Horizon Institute, a Somaliland consultancy firm helping communities move towards development and stability. "Vital life was brought back by local entrepreneurs who took local 'dhow' boats to get supplies in Dubai."
Somali vigour
Nowadays, arrivals to the sun-blasted city of 800,000 people encounter a mish-mash of chaotic local market commerce alongside diaspora-funded construction. Amidst the market stalls, Hargeisa boasts glass-fronted office buildings, Wi-Fi enabled cafes and air-conditioned gyms, all suffused with characteristic Somali energy and dynamism.
Lifeline from diaspora and livestock
Somaliland depends on money sent by its diaspora--more than $400 million (352 million euros) annually--and livestock sales to Arab countries generating 65 percent of national income. Its government has a tiny budget and relies on the support of local clans. It is hard for any government to prove its efficacy to international organizations, local NGOs and the private sector.
Financial seclusion
Non-statehood deprives Somaliland of direct large-scale international support from institutions like the World Bank and International Monetary Fund. For these members of the Somaliland Seaman's Union at Berbera Port's docks, it means they are not paid the same wages--they earn about $250 (220 euros) a month--as foreign workers as they do not belong to an internationally recognized organization.
Stability, for now
Peace and security hold in Somaliland, so effectively that money-changers can safely stash bundles of cash on the street. But the country's economic potential remains untapped, trapping its people in endless cycles of dependence. Patience may be running out, although locals do their best to welcome foreign visitors: "Thank you for coming," they often say. "Please tell people about our country."
Build and acknowledged
Berbera's modern port is now on the brink of a major expansion. Somaliland and Ethiopia signed a trade agreement March 31, 2016 on using the port. Such developments could transform and return Berbera to operating as a regional transportation hub, help develop Somaliland, while funding its nation-building ambitions.
Berbera Corridor
Crucial to this is Berbera, a name that conjures images of tropical quays, swarthy traders and fiery sunsets. Once an ancient nexus of maritime trade, Berbera has long been eclipsed by Djibouti's ports to the north. Its old port now crumbles looking out onto half-sunken ships, while its modern port handles less than five percent of Ethiopia's trade. But change is on its way.
Author: James Jeffrey