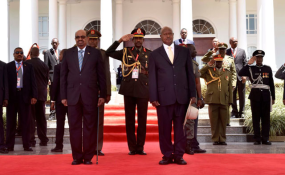 Photo: PPU
Sudanese President Omar al-Bashir has arrived Uganda for three- day visit again defying the international arrest warrant over alleged genocide charges.
President Bashir's visit is said to be part of the ongoing efforts to resolve the conflict in South Sudan.
Bashir arrived in the country this afternoon. He and his host, President Museveni will discuss a number of areas of cooperation including trade and investment, agriculture, regional peace and security as well as international matters of mutual interest.
The two heads of state will further cement bilateral ties between their respective countries.
This is Bashir's second visit after attending the swearing-in ceremony of Museveni on May 12, 2016.
President Museveni and Bashir have since 2015 been trying to forge mutual cooperation and positions towards regional and global issues.
They have in the past stressed the need revitalize political and diplomatic coordination to counter challenges that face the region.
President Omar al-Bashir last visited Uganda in May 2016 to attend the swearing in of President Museveni for the current term in office.
Human rights activists have in the past urged Uganda to arrest the Sudanese leader who is wanted by the International Criminal Court.