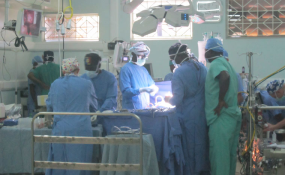 Photo: The Observer
By Emmanuel Ainebyoona
Kampala — A group of retired doctors and professors of medicine have asked government not to threaten but rather accord the striking doctors better working conditions and remuneration.
The doctors asked the Health minister, Dr Jane Aceng, to respect doctors.
"The government should not be forced to negotiate with its workers. It should know that its workers need to live and have families. There is no need to threaten doctors because there are already many people in prisons," said Prof Richard Bwogi Kanyerezi, the former head, department of Internal Medicine at Makerere University School of Medicine.
Dr Eward Kigonya, a former Mulago hospital executive director, said during their days as senior house officers, they would be given cars and better accommodation.
"In most areas in the country, you get into a hospital and they only give you prescriptions to go and buy drugs... so doctors are frustrated due to lack of better facilitation," said Dr James Batwala, a retired obstetrics and gynecologist senior consultant.
The former professors of medicine were speaking at a luncheon by a cohort of medical students, who attended the Makerere University Medical School between 1972 and 1977, to reward their former lecturers last Saturday.
Dr Micheal Bukenya, who chairs the Health Committee in Parliament, asked doctors to disregard the Health minister's statements of calling their industrial action "illegal."
Last Saturday, Dr Aceng said she would not negotiate with UMA since it is not registered as a labour union.
"My position remains what the Solicitor General guided. The industrial action is illegal and I will not go against the Solicitor General," she said.
Today, the doctors' sit-down strike enters its second week after being called on November 6.
The UMA president, Dr Ekwaro Obuku, yesterday said they have called a general assembly tentatively on Saturday with the hope that they will have met President Museveni and other government technocrats.
"We were expecting a meeting with the Minister of Health and the Ministry of Public Service at the weekend based on the guidance of the Prime Minister, Dr Ruhakana Rugunda," he said.