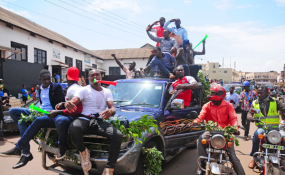 Photo: Stephen Otage/ Daily Monitor
By Ephraim Kasozi
The Monday court order followed an application by concerned citizen, Mr James Tweheyo challenging the elections in the absence of Advanced Secondary School students who are currently sitting their examinations until December 8.
Mr Tweheyo, through his lawyers led by Mr Caleb Mwesigwa filed the application arguing that the impugned elections, if held would disenfranchise the Constitutional rights of students who are eligible to particiapate either as voters or as candidates but they were unable to register.
The Electoral Commission (EC) had set November 14 for the election of women village committees and November 21 for the election of Local Council I Committees.
However, High Court Registrar, Ms Sarah Langa on Monday issued an interim order restraining EC and the Attorney General from organizing and or conducting the village council elections.
"Interim order is hereby issued restraining the respondents from organizing and or conducting village council I and II and women elections pending hearing of the main cause fixed for November 15 this year," Ms Langa ruled.
The express order followed an earlier one issued by a similar court in Jinja in a case of a student, Allan Alibwani against EC challenging the same exercise.
Mr Mwesigwa told Court that there is irreparable injury on part of the students estimated to number about 131,000 and aged 18 to 23 years, whose constitutional right, if violated cannot be compensated by any amount.