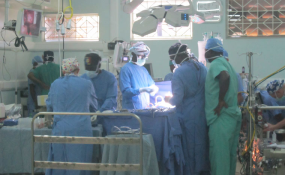 Photo: The Observer
By Job Bwire
A multi sectorial sub-committee of Cabinet has been set up to attend to the demands of striking doctors and arrive at an amicable and sustainable settlement that would see them call off their industrial action that has paralysed the health sector.
Prime Minister Dr Ruhakana Rugunda on Monday said after a briefing by the health minister, Dr Jane Ruth Aceng on the on-going sit-down strike by doctors and medical interns.
"Cabinet today established a committee to engage doctors to bring the industrial action to an end," Dr Rugunda said in a tweet on his twitter handle.
The committee comprises the ministers of Health, Finance, Public Service, Education & Sports, Gender, Labour and Social Development and the Attorney General.
This comes days after the doctors under the Uganda Medical Association (UMA) snubbed government orders to return to work and threatened to withdraw emergency health services if ms Aceng continues threatening them.
UMA president, Dr Ekwaro Obuku, on Sunday said they had called a general assembly tentatively on Saturday this week with the hope that they would have met President Museveni and other government technocrats to solve the impasse.
"We were expecting a meeting with the Minister of Health and the Ministry of Public Service at the weekend based on the guidance of Prime Minister, Dr Ruhakana Rugunda," he said.
The doctors' demands
As part of their demands, the doctors want government to review their salaries which would see an intern doctor earn Shs8.5million as opposed to the current Shs960, 000 before tax.
They also want a medical officer or teaching assistant to be paid Shs15 million and accorded a two-bedroom house plus a 2.5cc vehicle.
The demands first read out by Dr Mukuzi Muhereza, the UMC secretary general, propose that a senior consultant doctor or professor will be the highest paid health work with a gross salary of Shs48m plus allowances. These would be supplemented with a five-bedroom house, 4.0cc vehicle, and three domestic workers.
Currently, a senior consultant doctor earns about Shs3.4 million, consultant Shs2.6m, and a medical officer Shs1.1 million.
The doctors also want salaries for nurses and midwives enhanced to about Shs6.5 million besides a three-bedroomed house, 2.0cc vehicle and one domestic worker.
They also want the State House Health Monitoring Unit disbanded and replaced with legally established health professional councils.