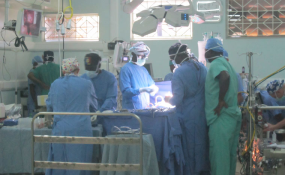 Photo: The Observer
By Observer Media Ltd
The medical interns have announced total withdrawal of all medical services including emergency services citing intimidation from government officials.
When the doctors laid down their tools last week on Monday, the Uganda Medical Association (UMA) announced that the doctors would maintain skeleton staff to attend to emergency services cases and pregnant women.
However, today the interns announced that starting today at 12pm, they would withdraw all labour in public hospitals, because according to them they can't continue working under intimidation from government officials including Resident District Commissioners (RDCs).
The RDCs were recently ordered by President Museveni to write weekly monitoring reports about the state of hospitals, availability of doctors and medicines.
The medics are protesting low pay and poor working conditions. There are about 1,000 medical interns currently working in public hospitals.
In a Thursday night press conference, minister of health, Jane Ruth Aceng ordered the doctors and "misled" intern doctors to return to work immediately or face the consequences.
More details to follow shortly...